News
Pool Chlor Shop Answers Seasonal Peaks in Customer Service with OMQ
With OMQ software, Pool Chlor Shop answers various customer service inquiries especially during seasonal peaks via chatbot in chat and self-service.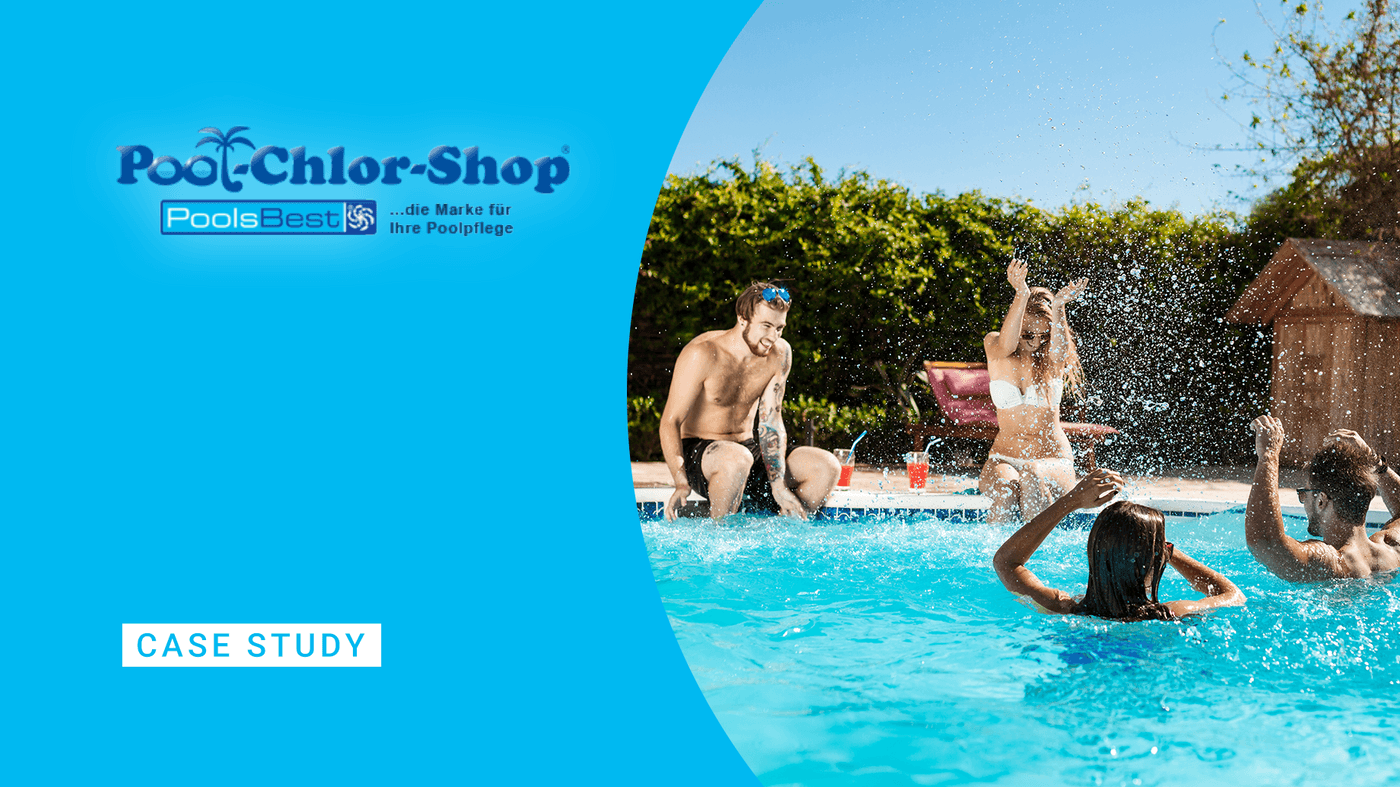 Who is Pool Chlor Shop?
As a distributor of water care products, pool chemicals and pool accessories, Pool Chlor Shop has a high volume of inquiries, especially during the summer months. However, the company originally started as a carpet store that began selling chlorine in 2000. Between 2005 and 2006, online shipping followed, and ten years later, the warehouse with office space. Carpet sales came to an end, but the trade in pool articles boomed - and so did the demands on customer service.
OMQ is definitely a highlight! Assist, Help, the chatbot and Contact intercept requests like a firewall - we are very satisfied.
Christian Bork, Head of Customer Service
For this reason, the company decided to use smart tools to meet the expectations of its customers.
Challenges in Customer Service
Seasonal spikes in particular ensure that more customers turn to the company in some months. These seasonal peaks also create some challenges for the company, for example in resource management. As the increased customer demand has to be managed, it is necessary to ensure that sufficient staff are available. Otherwise, it can take a long time to deal with customer queries, resulting in dissatisfied customers. In addition, the quality standard of customer support can drop at peak times.
With new personnel comes another step in the process, namely training and preparing the staff. Without the right knowledge, the service staff cannot provide the best possible service, but preparation always takes a lot of time. It should be noted here that the topics relating to pool, chemistry etc. are very challenging and two to three employees had to answer up to 600 emails on their own.
Due to the Corona pandemic, the seasonal peaks increased additionally, as the demand for pools became greater. In contrast to 2019 with about 7000 answered emails, there were already 10,000 answered requests in June 2020 and even 12,000 answered requests in June 2021, showing the impact of the pandemic.
But how can these peaks be handled optimally?
We realized that the three of us simply couldn't manage it anymore and needed support, especially with the answering of emails. That worked out great with OMQ.
Christian Bork, Head of Customer Service
Types of customer service requests at Pool Chlor Shop
In addition to typical standard inquiries, there are also individual inquiries around the area of pool cleaning and so on. Other "classics" of customer service at Pool Chlor Shop are for example…
Where is my package?
How can I make a return?
How long does the shipping take?
These are answered by email, phone and chat at Pool Chlor Shop.
Finding a solution
Pool Chlor Shop was already using Greyhound Software's ticketing system for email customer service and when they discovered OMQ, which turned out to be just the right solution for the persisting challenges. With little effort, the OMQ software relieves the staff, while the customers always receive the best quality of service.
OMQ provides tools for various customer service channels to automate them. For example, OMQ Assist can be integrated with the ticket system to help with email responses. OMQ also offers solutions for self-service, such as OMQ Help, the self-searching FAQ, or OMQ Contact, which integrates with contact forms and then displays appropriate answers as requests are typed. In addition, the OMQ Chatbot provides the option of answering customers' questions via chat.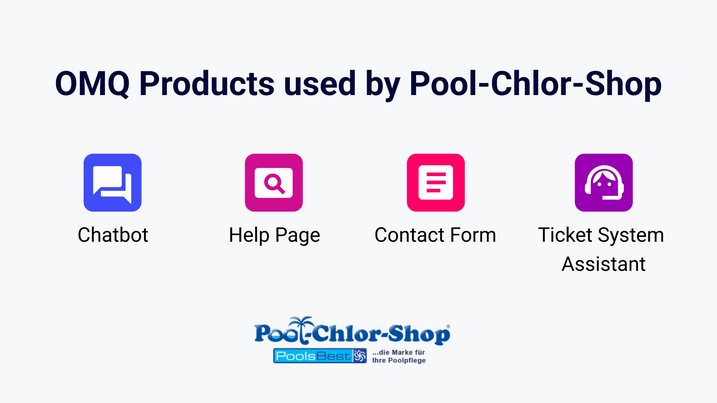 With OMQ software, all information is stored centrally in a knowledge database and can then be distributed to the respective service channels. This means that customers always receive the same quality of answers - regardless of which channel they turn to. Furthermore, by entering the information in the database, even challenging topics such as pool chemistry, etc. can be answered directly.
OMQ is fully up to date especially on technical level!
Christian Bork, Head of Customer Service at Pool Chlor Shop
Implementation
The first contact between OMQ and Pool Chlor Shop was, as already mentioned, via the Greyhound platform. Thanks to positive initial discussions and attractive offers, nothing stood in the way of a smooth collaboration. The implementation phase went quickly, as the database could easily be filled with text templates.
In doing so, OMQ's support team was always available and could help Pool Chlor Shop to always provide good support. Without OMQ, 20-30% more requests would have to be answered by themselves.
Automatic response to requests in the ticket system
In 2018, the company decided to use the OMQ Assist tool, which simplifies and speeds up the process of responding to tickets.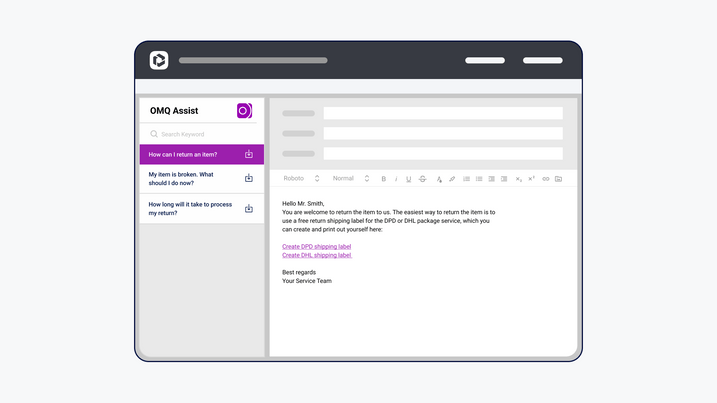 The tool uses AI to read the emails as they are opened, understands the intentions of the messages and suggests response options accordingly, from which the service agents create a response email. This relieves the burden on customer service without having to hire new employees.
The OMQ Assist tool saves 10-20 seconds of processing time per email.
Christian Bork, Head of Customer Service at Pool Chlor Shop
There are approximately 240 templates that are used and 150 internal text modules that can be used for the response.
Another advantage of using OMQ for the company is that agents consistently respond with the same quality, because the same service knowledge is available to all agents.
Chatbot in Pool Chlor Shop Customer Service
After Pool Chlor Shop had already integrated the plugin into the ticket system, further subsequent discussions revealed a need for automation in other customer service channels. With the OMQ Chatbot, an additional tool was implemented a short time later that is capable of taking requests. The chatbot answers between 30 and 50% of the questions that arise.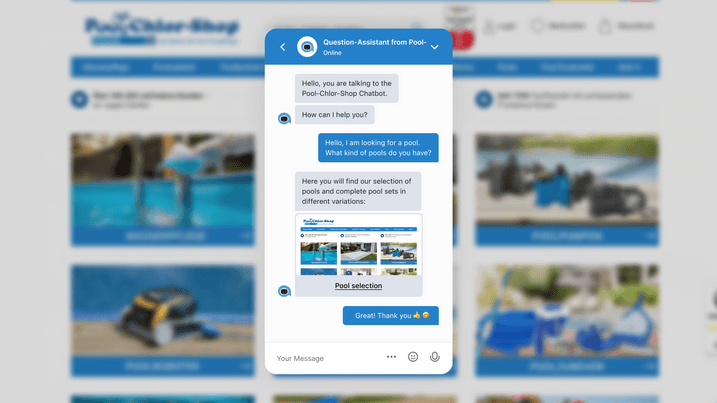 The chatbot is in use 24/7 and uses artificial intelligence to support customers quickly and reduce costs. Combined with human assistance (i.e. the ability to connect customers with service agents), the chatbot significantly optimizes customer support.
The introduction of the chatbot also allowed us to identify any remaining gaps in the subject areas, which led to an expansion of the database.
Smart help page
Another tool that intercepts queries and thus ensures less e-mail traffic is the self-service tool OMQ Help, with which the company has implemented an automated help page. Here, customers can independently search for solutions to their questions.
The help page contains comprehensive content such as FAQs, instructions, and videos. Customers can access it around the clock and meet their needs without having to communicate directly with customer service. Intelligent help pages reduce the burden on customer service, increase customer satisfaction, and reduce costs.
Self-responding contact form
OMQ also automates the contact form. With OMQ Contact, service requests are answered directly in the contact form and, ideally, the requests do not have to be sent at all, which significantly reduces the workload.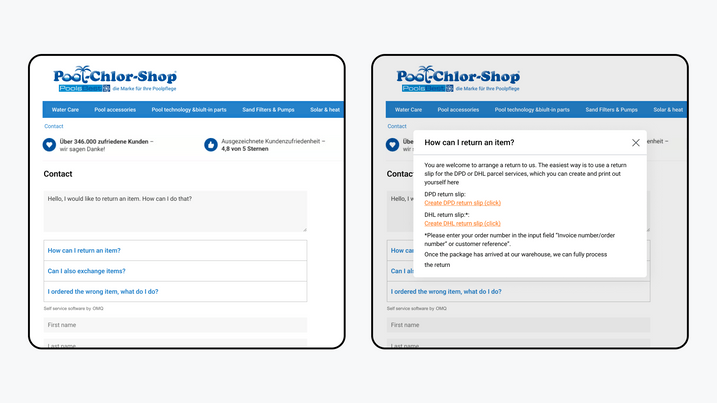 As soon as customers type their questions into the message field, the appropriate answer options appear in real time next to the form.
We definitely recommend OMQ. We as a company have grown with them!
Christian Bork, Leiter des Kundenservice bei Pool Chlor Shop
Ideas for the future
Meanwhile, the company uses all OMQ products. In the future, Pool Chlor Shop wants to optimize the knowledge base and increase support. Eventually, WhatsApp will be added as a customer service channel. The company also already uses the GPT-based OMQ Chatbot.
In the future, work will also be done on conditional answers, where customers can specify their problem and then click through the possible solutions on their own. If the customer then writes, for example, "I have a problem with my pool," the chatbot asks further questions and the case becomes more concrete, which means that a suitable solution can ultimately be found.
If you would like to improve your customer service with our AI software and would like to benefit from our smart Tools, you can arrange a free demo with us. If you have any questions about us, our system or our tools, please feel free to contact us. We look forward to seeing you!
What is an AI-based chatbot?
What's the best way to handle seasonal spikes in customer service?
How does automation help manage seasonal peaks in customer service?
How does artificial intelligence work?
Is automation artificial intelligence?