Helping Hands
OMQ and OMR show how you can improve your online customer ratings
In our Masterclass, we show you with the help of practical examples, how you can significantly improve your customer ratings through better customer communication, so that your sales also increase.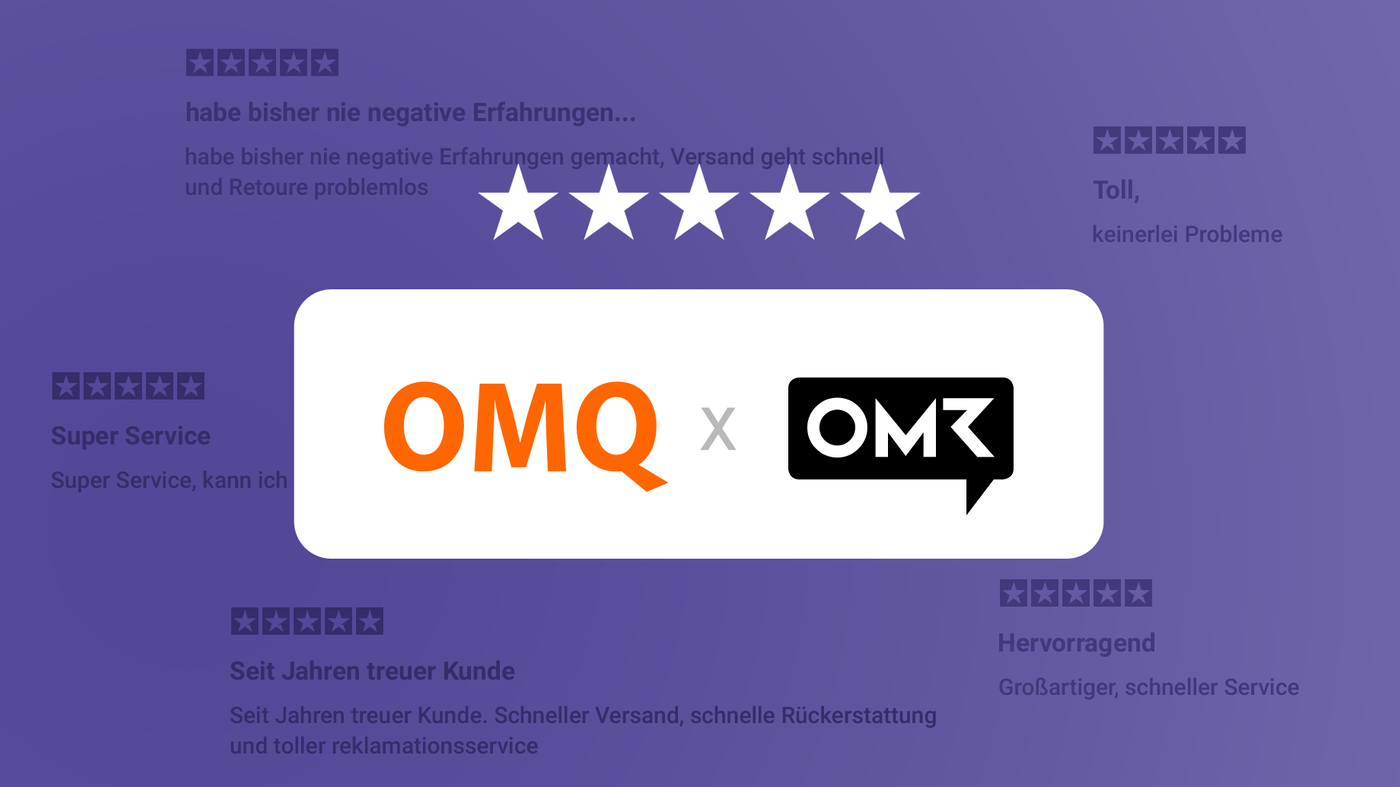 How do you reduce bad reviews and how do you generate good reviews? Watch the video of the Mastercall here:
The second masterclass that we published together with OMR revolves around the subject of customer ratings. After our last masterclass on the subject of "Customer Service is Marketing" had such a great response, we are looking forward to sharing our knowledge on customer ratings and reviews.
In the following masterclass we explain how to get good reviews and prevent bad ones. We will also show you which tools can help as well as offer specific assistance for communicating with your customers.
Why are reviews so important?
Recommendations usually lead to the purchase of a certain product. These can come from friends and acquaintances, for example, or they can be found in specialist magazines. A recommendation gives customers a first impression of a product.
Recommendations in the form of online ratings have the greatest influence on our purchasing behavior with an outstanding 35.62%. From this it can be concluded that customer ratings on the Internet are by far the most important factor in purchasing a product. Very good customer ratings strongly influence the customer's purchase decision and thus increase sales significantly.
A study by bitkom shows that the importance of these ratings is increasing in the younger age groups, which means that they will become even more important in the future.
Reviews are Marketing
Customer communication and marketing don't end right after the purchase. On the contrary, they are also continued afterwards in the form of reviews. A customer has to be satisfied in order to keep the rating level as high as possible so that you can win and acquire new customers.
The aim of a company should be to get the best possible reviews and to prevent bad reviews.
How Reviews Help the Company
Reviews are the be-all and end-all. Whether a company gets good or bad online reviews is decisive when it comes to visibility on the Internet. The better the rating, the higher the company's visibility.
If a company is in the upper range of customer ratings and has, for example, 90 percent customer satisfaction, it may be in 200th place in a ranking. An increase in satisfaction to 95% can then lead to it climbing to 5th place in the ranking. Thus, even a small increase can bring enormous profit, as the company is found faster and generates more sales.
How do you improve your customer ratings or customer satisfaction?
Mathematically, in the previous example, there could be 90 good ratings and 10 bad ratings. In order to increase customer satisfaction to 95%, 100 more good ratings must be acquired or generated in order to get to the desired percentage. So more than twice as many good reviews have to be generated.
However, if you go over the bad ratings for this calculation, they only have to be reduced by five. So you only have to avoid five bad reviews to get 95%.
Bad reviews are underestimated. Preventing them is a very big lever to generate sales, and having the best possible customer communication already contributes to the reduction of bad reviews.
Conclusion: You should not only focus on getting a lot of good reviews, but primarily make sure that you get as few or no bad reviews as possible.
Reasons for bad online customer ratings
In order to show which reasons are responsible for bad customer ratings, we take our study that we carried out on hand.
For our masterclass we carried out a study to show which reasons are responsible for bad customer ratings.
It is noticeable that all points are either directly or indirectly related to customer service. If something doesn't go as it should, they are usually contacted. If the service does not work properly at this crucial moment, the customer is disappointed and turns to the review forum with their anger. While the unfriendly service accounts for 14% , friendly customer service that cannot resolve questions also has an impact on negative reviews.
Three reasons can be filtered out:
Customer service was contacted and the customer was disappointed
disempathic behavior, no problem solving)
The service tried to contact but was not reached
(channels did not work for the customer)
The customer had a problem but didn't contact customer service (unlikely)
Conclusion: In most cases it is not the quality of the products that is decisive, but the support that the company offers. Bad reviews almost always have something to do with customer communication. "
Tools for good customer service
Minimizing bad reviews means offering excellent service in order to optimally support each customer. This in turn means that customer service needs more resources. Is there a way to fix both problems right away?
In an ideal customer service that provides the customer all communication channels for support, a distinction is made between direct and indirect channels. Indirect channels are, for example, help pages or FAQs. Direct channels mean hand-in-hand communication by phone, chat or messenger.
The aim should be to redirect most of the simplest and most recurring requests to the indirect channels if possible, as these offer the greatest potential for automation. Customer service has enough time and resources to deal with the complicated cases that would otherwise lead to a bad rating.
We have already explained this in detail in our first masterclass. Click here to find out more about the various service channels.
Different channels for different customers
In order to offer the best customer service, every customer who requested support should be offered the channel that they prefer best. To make this clear, we present different personas with their customer service needs:
FAQ / Help page
Florian is 37 and works as a developer. He is used to looking for his own information. He doesn't like to get in touch with companies and wants to be able to solve problems himself.
It is important to him to find information directly and quickly. Clarity and efficient search methods help him find the answer to his question.
The help page of OMQ arranges questions according to the frequency of inquiries and thus ensures that Florian finds his solution immediately without searching. In addition, he can search by category with OMQ Help or use the self-navigating autocomplete to find his answer quickly. Search queries can also be made in natural language thanks to artificial intelligence.
Contact Form
Anke is a 34-year-old consultant in a law firm and prefers to not look for the solutions on her own, however she doesn't necessarily like to get in touch with a service employee either.
In the contact form she can enter a question and with OMQ Contact a solution is shown proactively, so that you don't have to contact customer service directly. This solves her problem immediately, she is happy and, moreover, customer service is greatly relieved. A win on all sides.
E-Mail
Anegret is 67 and is still often confused online. That's why she likes to ask her relatives or contact a company directly with a question.
After receiving a shipping confirmation email from a company, she uses this channel to ask if she can send the goods back if she doesn't like them. To do this, she replies to the e-mail with her question.
With the integrated AI from OMQ for automatic answering of customer mails the e-mail channel is relieved considerably. OMQ Reply analyses the incoming e-mail, understands the customer's intention, finds a suitable answer and sends it to Anegret.
The e-mail explains to her how a return process is done and how she can send the goods back. Anegret has an answer to her question immediately, is satisfied and the service did not have to answer this request manually.
Chat / Messenger / Telephone
Marie is 18 and is used to chatting with her friends on WhatsApp every day. She wants to buy a jacket in an online shop and has a voucher code, but it doesn't work. She contacts customer service via WhatsApp.
In our case, the WhatsApp Chatbot from OMQ receives your request, determines the intention with AI and sends a response from the knowledge database. For example, she might be told that there is currently a technical problem and that she would like to place her order again in half an hour.
Marie gets a solution immediately and does not have to consult a service employee. Due to the quick response, she does not write a bad review for lack of service. Both Marie and the company are helped.
The highlight of OMQ…
…is that all of our products have access to the same knowledge base. Our system is described as answering a question just once, and then the software uses AI to independently decide which answer is displayed on a channel and how.
The information circulating in the FAQ is no different to that in the chat. The same answers appear in the contact form as those given by the agents from the call centre to the customers over the phone. The same information is everywhere.
In short
Every bad review is a missed service case!
Bad reviews are caused by unsatisfactory service. Therefore, the focus should be on optimizing customer service so that bad reviews cannot even arise in the first place. With our tools we can help you ensure this is the case for your customers.
Bonus!
Finally, we have two small bonuses for you on how you can improve your ratings immediately.
Bonus 1 - Proactive Service
After customer interaction, you send a proactive email to your customers asking whether they are satisfied with the service or the product. If he is satisfied you will redirect him to a review page. If he is dissatisfied, you can direct him to customer service. This actively prevents dissatisfied customers from giving a bad rating.
Bonus 2 - free analysis of the service channels
In order to support you even more and to help you offer an even better service, we want you to benefit from our experiences. For this reason, we offer you a free analysis of your service channels. Enter the code "omr20" in this form, and we will contact you for a free analysis.
If you want to find out more about us, our products or about AI in customer service, you can contact us here or request a demo. We are looking forward to hearing from you.