Scary New World
An (AI)-Christmas Carol
A service manager is haunted by three ghosts and sees all that is going wrong in his customer service department.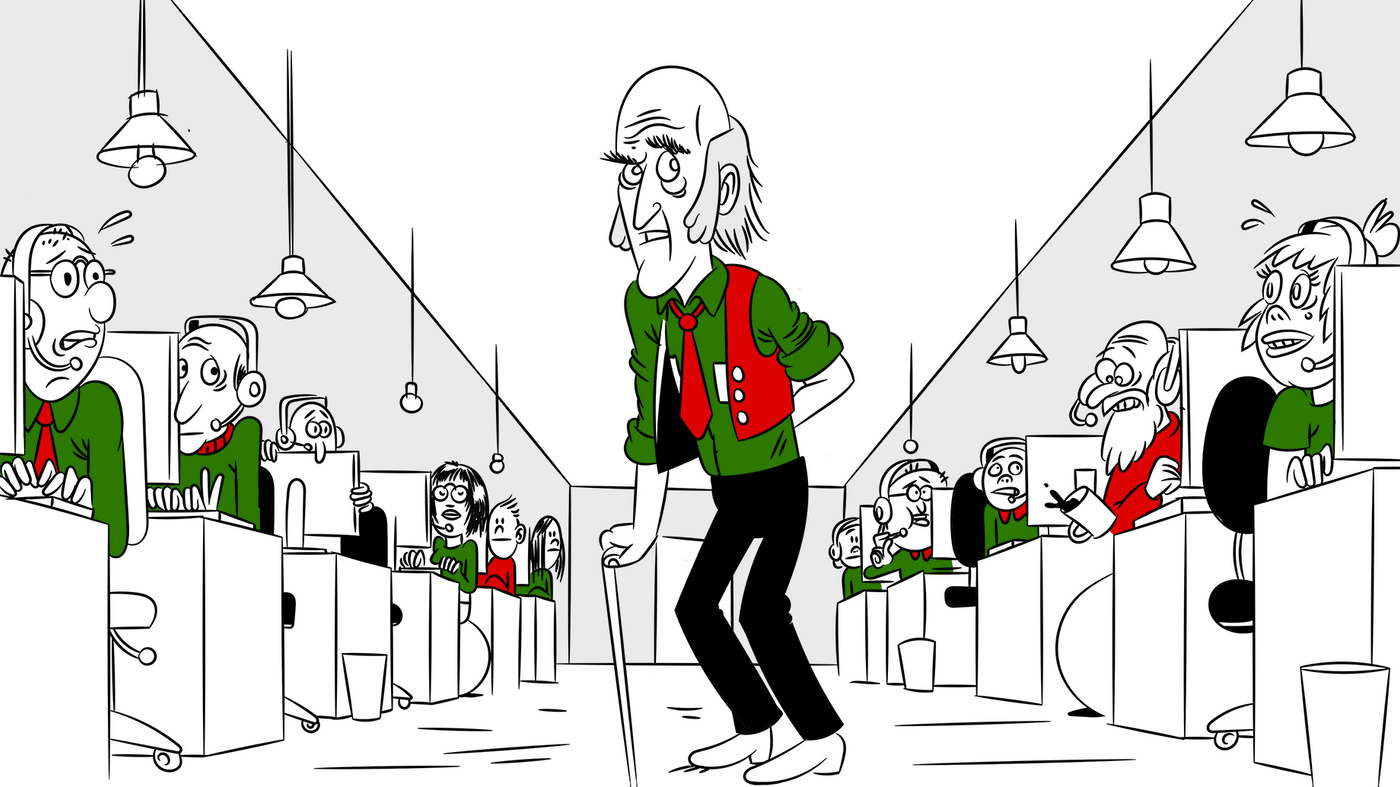 Christmas time. Originally merry and tranquil, it has turned into pure stress for me in the last year, since I became service manager. This is probably due to the growing online trade. Christmas offers and discounts increase, Black Friday and Cyber Monday are supposed to bring more sales as well. These campaigns are followed by advent calendars and eventually Christmas itself. It is clear that it's not what it used to be. But you have to adapt. For me as head of department, this means that we have to reply to all customer requests and always be available - no matter how. My supervisors remind me constantly…
Today they told me that our customer service department had to work even faster and had to improve answering customer requests. They said that the department's performance wasn't enough, that I should pay more attention to that issue and that I should put pressure on my team, if necessary. Just this morning I had to threaten two employees with termination because they said they weren't able to solve every request. Of course I feel whenever I have to do things like these… but I can't really change it… I am constantly afraid of being replaced myself. And yet I have to be tough in front of my employees…
At 4:00pm, I shut down my computer while my agents work many more hours to answer customer enquiries. I leave the building and go home, where I do my daily routine and go to sleep afterwards. But there's something different in my bedroom. I roll around all night and sleep restlessly. And then, in the middle of the night, I wake up again because I feel like someone's watching me.
"Well, well, well… if this isn't the new head of customer service…", I hear my old superior say and I sit up in my bed, confused about the situation. That must be a dream. After all, I have hardly slept. "What are you doing here?" I ask and he replies:"I realized that my way of running the department was not the right way. I overworked myself, but also transferred my stress to you employees…" "That's right. It wasn't nice back in the day… but what does that have to do with me?", he looks at me and says: "Tonight, you will see several scenarios that will change your attitude towards your customer service and your team." After that, he vanishes and leaves me in my room perplexed. Am I so tired and stressed that I'm hallucinating?
…the customer service of Christmas Past
Suddenly, in the middle of the night, something tears me out of my sleep. When I look at the clock I notice that it is only one o'clock and I lie down again… but then I notice something in my corner of the room… Another weird dream? Or imagination? … Suddenly the shadow moves towards me, takes shape and then stays right in front of my bed. The ghost says, "I'm going to show you your customer service of the past Christmas season", and I just stare confusedly in his direction.
Suddenly, I am no longer in my house, but in a completely different apartment. "Where am I?" I ask the ghost, but he doesn't answer. A Christmas tree decorates the living room, a family sits at the table looking forward to the celebration. It's last year's Christmas Eve. Then the door opens: one of my employees comes in! It is quite late, the children yawn – and the woman shakes her head too. "How is it my fault that we don't get any peace at Christmas? The boss even expects us to answer requests on Christmas eve…" , he sits down at the table. "You could just find a new job", says his wife. "Maybe I should. This company burns me out completely! Everyone is under pressure, nobody can actually enjoy their free time. Even now I think about customer requests constantly…"
"And yet you don't call in sick?", says the woman. "So that I'm unemployed for the new year?! Why do you make ME feel guilty?! I'm the one who always has to give in!" he almost screams and is quite frustrated. The children sit at the table and are completely distraught. He gets up and rushes out of the room… Christmas is ruined.
After this scene, I am back in my bedroom. "And now?" I ask the figure. "You'll get two more visits today", says the shadow, before it disappears from my eyes.
… the customer service of Christmas Present
This ghost also keeps his promise, because I wake up around 3:00. This time the ghost looks a little different, but it doesn't scare me anymore. I don't have the time to ask any more questions, but I am teleported straight to a strange room. "And what do I have to look at now?" I am a little annoyed. "Your customers that currently use your customer service.", the Spirit answers. I'm a little puzzled.
On the couch, a woman sits in front of her laptop and gets angry. "This doesn't answer my question?!" she says annoyed. "I want to know where my parcel is – I don't care what kinds of payment they have?!" she shakes her head. "Unbelievable!" she adds. I'm going to go a little closer to see what's frustrating her. It's our shop. The customer service does not work – their request seems to have been unprocessed for a long time – and finally wrong. She starts writing a long complaint. It says, among other things, that it has happened to her many times in the shop and that she advises everyone not to place an order. This review is sent out and quickly finds like-minded people.
"That can't be true!" I am indignant and turn to the ghost. "My employees work hard every day!" I add. "That can't be true. We're all already at the limit. What are we supposed to do?!" I wonder desperately, but the spirit doesn't answer… a blink of an eye and I'm in my bed again… Theoretically, I should see another scenario… I wonder what will happen…
…the customer service of Christmas Yet to Come
When I am woken up for the third time, I am already curious about what to expect. I sit up and look at the shadow. However, this one is even more sparse than the last one. This time I'm in a place I know. It's our office - but somehow it looks different.
Everything's going up and down. The staff look even more stressed than usual. The colleagues are at their limit. And you can see that. In addition, there are far fewer people in the office, which exacerbates the situation. On a desktop I can see the date and notice that I see our future service.
I can imagine that some posts have been cut. There's no other way to explain why only three employees are sitting at their computers and answering queries… I walk over to them to take a look at the screens… Queries about queries, a backlog of emails is piling up in the mailbox…. Besides, I catch a glimpse of the company's rating, as one of the colleagues has it opened on the screen. The customers are completely dissatisfied and write countless negative reviews. It's unbelievable.
A quick look at our analysis gives me the rest. I have now seen numbers. We are losing more and more customers and employees – with the company we are going down the drain! If we don't act better now, then we'll probably all have to look for new jobs soon… I have to find a solution for us!
When I find myself in my bed, I can't sleep. I have to change something. Otherwise, this won't end well… I need to support my service staff better and our service needs to become more efficient. I put so much pressure on them. There must be a better solution for our service.
An AI Christmas miracle
Since I can't sleep anymore anyway, I sit down at my computer and start looking for solutions to my problem. The ideal solution should relieve both my service agents and satisfy my customers. It would be best if most service requests could be taken over by someone, or something…
Fortunately, I find one quickly and agree to a demo with a company that offers me an AI-based customer service software. This could solve all the problems that my customer service currently has with artificial intelligence. In addition, my service could be guaranteed 24/7 – and my employees would be relieved!
When my alarm clock rings in the morning, I immediately get ready to get to the office as soon as possible. Once there, I see stressed faces who have been sitting at their computers since the early hours of the morning and answering questions. When they see me, they're totally confused. No wonder: I'm smiling. I can't wait to tell them about OMQ, the company that will help our service with the AI solution!
I stand in front of my team, ask for their attention and then say to them: "I know we are all stressed and under extreme pressure. This cannot go on, I think you all agree with me." I see nodding heads and a murmur going through the office. "I was looking for a solution to our problem and came across OMQ." I explain to them that I have arranged a demo and for the first time I see relief in the faces of my employees.
The demo shows us how exactly OMQ can improve our service holistically by automating all service channels at the same time. The intelligent software ensures that recurring standard requests are easily answered by the system, by the AI reading through the requests, recognizing intentions and directly being able to answer. All channels are connected to a central knowledge database.
On the one hand, the service agents are directly supported by the OMQ plugins, which are integrated into the ticket system and the e-mail inbox. In addition, OMQ can easily be linked to the help page, the contact form and the chat, providing customers with the right answers on the website. This significantly reduces our ticket backlog, which allows the service agents to focus on individual cases and thus relieves them.
Making service agents and customers happy
Our customers also benefit from the use of AI in our customer service, because their requests are processed faster. In addition, the service is guaranteed around the clock. With the automation of all service channels, we also ensure that customers can always choose their optimal communication path themselves, which also contributes to satisfaction and positive online reviews.
After the demo, we are all impressed and absolutely thrilled. My employees are very interested – they can't wait to see the software in use in our customer service. Fortunately, this happens even faster than expected, because thanks to the out-of-the-box system, the software is quickly implemented and ready for use.
All the stress of the past Christmas season, which took our last nerves yesterday, seems to have been blown away. Thinking about the future like this, I'm not afraid anymore. There will be no staff cuts and our agents will receive positive feedback. The working atmosphere in my team is much better and my employees are much more satisfied and full. The use of the software has greatly improved our customer service, which has had a positive impact on our entire company. As customer satisfaction has improved and we are strengthening our relationship with our existing customers, we are also gaining more and more new customers and thus also increasing our sales. From now on, Christmas will return to the way it used to be: quiet and contemplative.
It's a nice gift…
If you also want to think carelessly about the coming Christmas by offering efficient customer service, feel free to contact us! We help you prepare your customer service for peak demand. Contact us here if you have any questions. If you want to schedule a demo directly, we are happy to do so. Until then, we, the OMQ team, wish you a Merry Christmas and a happy start to the year 2022! :)