Events
Fast and effective customer communication | Customer Service Keynote 2022
OMQ automates customer service across different companies and industries, making customer communication faster and more effective.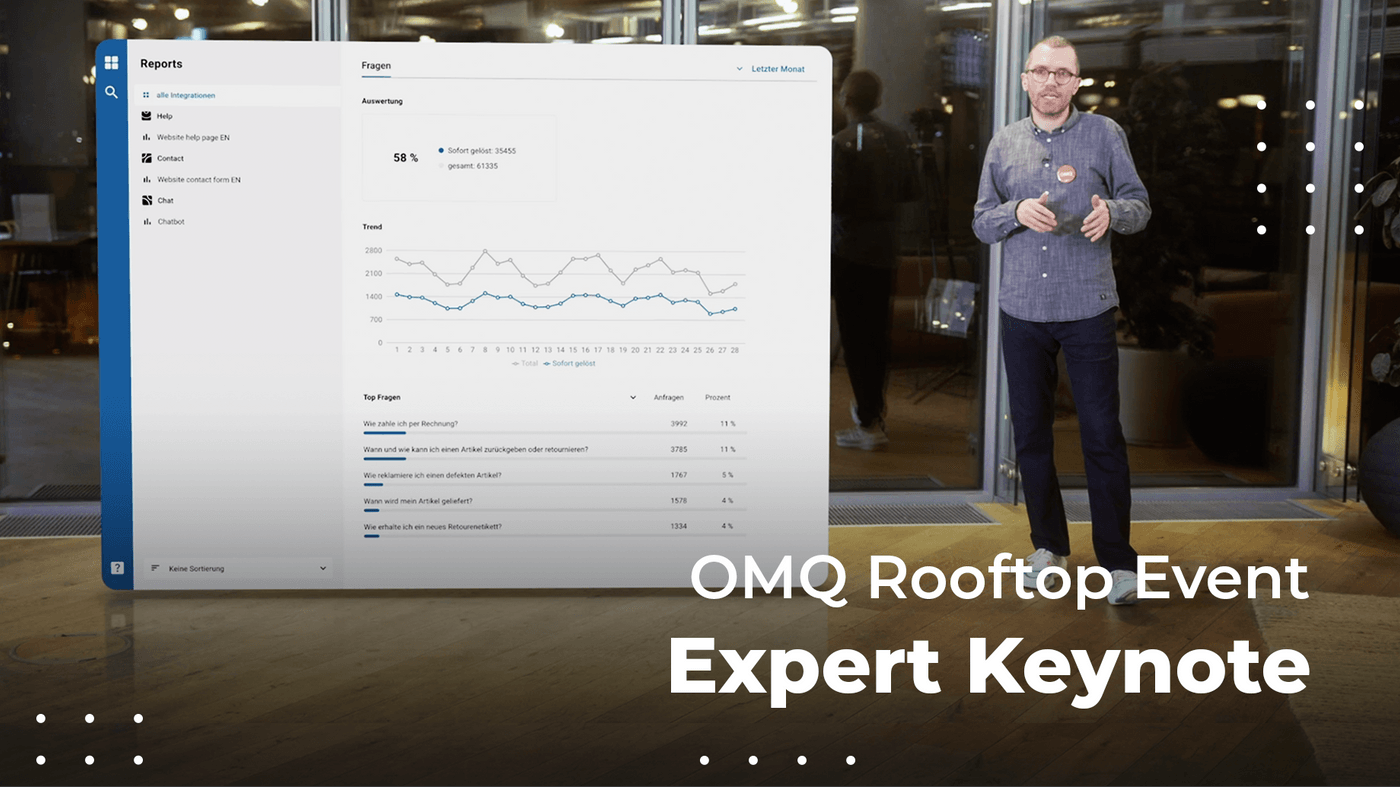 For four years now, we have invited our customers and partners to our annual OMQ Rooftop Event to discuss current customer service trends and the future of support. Once again, our CEO Matthias Meisdrock shared his experiences in his keynote on Customer Service Trends 2022.
How does OMQ improve customer service?
With simple tips and tricks, customer service can be improved quickly and effectively. However, you should first ask yourself why customer service is so important and should work optimally on what needs to be changed. In fact, recurring requests account for more than 80% of customer support efforts. These have to be elaborated and many resources are consumed. If each question needs to be answered only once, customer service can work much more effectively, since most of the manual work is eliminated. This is exactly where the service should be improved.
Users log into our web interface and create categories, questions and answers in a knowledge database. OMQ's Artificial Intelligence compares questions with the central knowledge database and thus understands the client's intentions. We offer…
Texts
Headings
Lists
Images
Videos
Source codes
Downloads
…as elements for answers. In addition, it is specified which visibility and which categories are assigned to an entry. In the next step, the individual service channels are connected to our system in order to display the created responses there.
The central OMQ knowledge base
The central OMQ knowledge database collects and manages service knowledge. Thanks to the AI technology used, the knowledge base learns across all channels and becomes more precise with each request.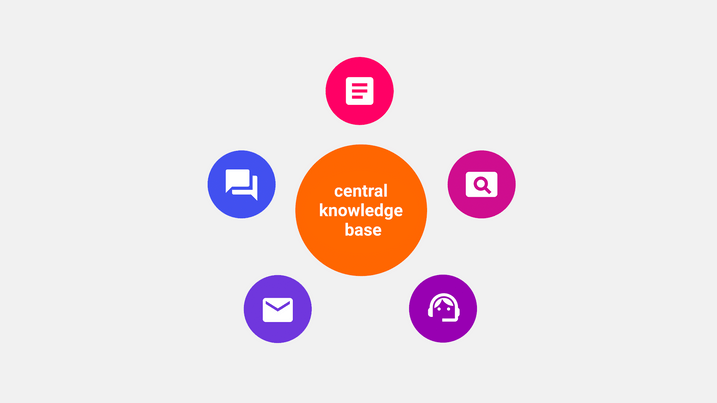 The system uses feedback from both customers and service staff to continuously improve the quality of the response. All OMQ products are linked to the central knowledge database. This provides all communication channels with the same service knowledge.
OMQ Help for help pages
On the help pages of our customers OMQ Help is used. The users are guided directly to the right answer without much searching. With OMQ Help a self-searching FAQ is integrated on the help page, which convinces with clear categories, a real-time FAQ with tracking user behavior and dynamics in displaying current changes and minimizes customer enquiries.
OMQ Contact for the contact form
OMQ Contact is integrated into the contact form. When customers enter questions in the message box, they get a solution immediately. The customer service does not have to answer the question manually. OMQ Contact offers the fastest service and avoids the creation of tickets, as customer enquiries are answered immediately.
OMQ Chatbot
The OMQ Chatbot is integrated on the website via live chat or in messengers such as WhatsApp or Facebook. Here he answers inquiries independently and helps the customer to get their case solved. The OMQ Chatbot offers simple interactions with precise answers and a natural conversation flow with the ability to small talk. It can also trigger actions in the background, such as changing delivery addresses.
Plugins for e-mail and ticket systems
OMQ Reply is integrated into the e-mail inbox to answer queries automatically. OMQ Assist is used to assist employees in call centers by helping the service agents with answer templates they can assemble an answer email from. In both cases, the e-mail is automatically analyzed and manual work is eliminated. Here we connect ticket systems such as Greyhound, Salesforce, Zendesk, OTRS or Freshdesk.
Since the answer only has to be created once before the OMQ system is able to answer the question independently on all channels, you save a lot of time and effort when processing customer enquiries.
Practical use of our system
Our first example is an e-commerce-shop that receives questions about malfunctions in coffee machines. Since there are many different coffee machines, there are also many possibilities of how to answer these requests.
In order to make it easier for the client to receive the specific answer, the contact form first offers a selection by which the client first describes their case in detail by clicking on the different options. First of all, the customers determine their model. Then the type of problem is explained using the Clickbot method. In the end, a precise and appropriate answer arises, because the issue has been described with all the important data.
For the insurer Wertgarantie we have implemented a chatbot together with Userlike that answers customer enquiries independently. For example, damages can be reported via the chatbot. Customers first select their device type, then the contract details and finally whether the damage has already been reported. This way they get the right answer.
Here, too, the Clickbot method is used, but this happens on the chat interface and is part of the communication. The case is already explained in detail by the customer and can therefore be solved without much inquiries on the part of the company. The need to request missing information via a long e-mail communication from customers is eliminated.
Complaints about e. g. kitchen appliances are often very time-consuming. Devices are transported to customers and then have to be installed on site. Any complaint is very costly. This increases the pressure on the service to help customers and to query the information in such a way that service requests can be answered as efficiently as possible.
Before OMQ was deployed, inquiries were made and answered by e-mail. Since customers did not always provide the same suitable information for answering the enquiries, the service case had to be classified first due to complex enquiries. The result was long-term and time-consuming email communication.
With the OMQ system, complaint requests are now first assigned to a specific area. Data about errors are then queried and suitable solutions are already offered in most cases. If suitable solutions are not found, the product information is queried in the next step. Here it is possible to distinguish directly which machine has a problem. This can be recorded directly and the customer service can evaluate the case even better. These improvements reduced the number of requests in peak times from 350 to 75 emails. This is a drop in service requests of almost 80%. In this case, one should also consider that many complaints were no longer necessary, since the problem could be solved directly.
The rental division of Deutsche Bahn uses OMQ not only on its website but also in its call centers to answer inquiries faster, more accurately and more effectively. When service employees open customer enquiries, our Artificial Intelligence detects the request and suggests appropriate answers. These may be answers displayed on the website. However, they can also be answers that are only available to customer service.
The answers do not only apply to the different products and languages, but are also used by Deutsche Bahn for their different brands. DB-Connect has a central knowledge base for all customer concerns across all channels, languages and brands.
A glimpse into our year 2021
In 2020, we built all our products from scratch. Last year we focused on the new administration. We have completely redesigned the interface and functions to make creation and editing as easy as possible.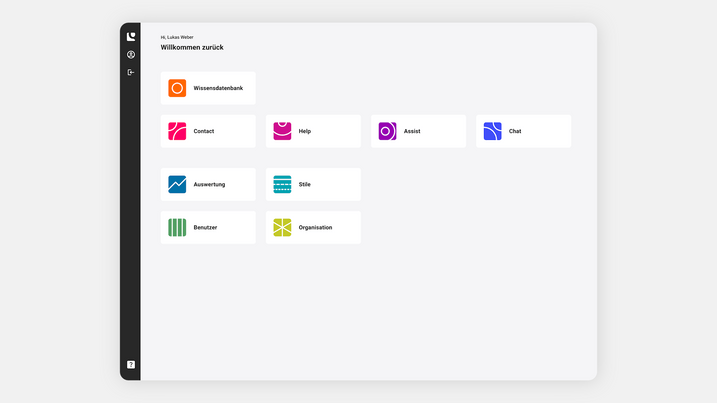 With the help of our administration, our editors can change and update entries daily and can react to current events and incidents. The same entries are used for all communication channels. In the contact form and on the help page, these entries are displayed and the chatbot can automatically build dialogues out of them.
In the editor, it is now possible to create, for example, conditional answers that include an additional query. For example, you can create an answer on the subject of "payment" and define different types of payment within the answer. Each payment method then has its own instructions.
On the help page and in the contact form this becomes a selection and in the chatbot a dialogue with the customers. In this way, only the information that is relevant to the customer is displayed. If the customers ask how to pay in the chat now, the chatbot first gives a selection of payment methods. After selecting e.g. PayPal, the chatbot describes how to pay with it.
Our new engine and the OMQ Automator
We provide our customers with regular reports on our products, through which they can see how their customer service is performing. In the reports you can now see which questions were asked and how often. It is not only possible to differentiate between communication channels and languages, but also according to the connections of the individual products.
By expanding our speech processing pipeline, our engine understands new concepts right away. Thus, we have improved our detector by 5-10% on average. In some cases, there was even an improvement of up to 40%.
Thanks to the new engine and the OMQ Automator, the chatbot can now perform standalone actions, even if the relevant information is already in the first message of the customer. For example, if customers want to change their delivery address, the chatbot can do so immediately. The engine determines which part of the message the address is and processes it as a parameter for the action. This makes the dialogue even more natural and customers do not have to mention this information again in their communication. In addition to addresses, names, e-mails, number of items, prices, customer numbers and many other data can be processed.
We are looking forward to 2023
…And the changes that Matthias tells us about in his new keynote. Customers from a wide range of areas use our software to make their customer communication more efficient and faster. On average, we solve 53% of requests for our customers automatically across all our products.
If you have any questions about the use cases, you want to know how to best implement your use cases or have any questions about customer service in general, please feel free to contact us.
FAQs
How does an email bot work?
How to automate the chat?
How should a good help page be structured?
Why use a contact form?
What is a ticket system?
What does a knowledge database do?