Helping Hands
Never tired of your questions - OMQ Help
OMQ Help is a self-searching help site similar to a FAQ. The intelligent knowledge base responds to current changes in customer behavior.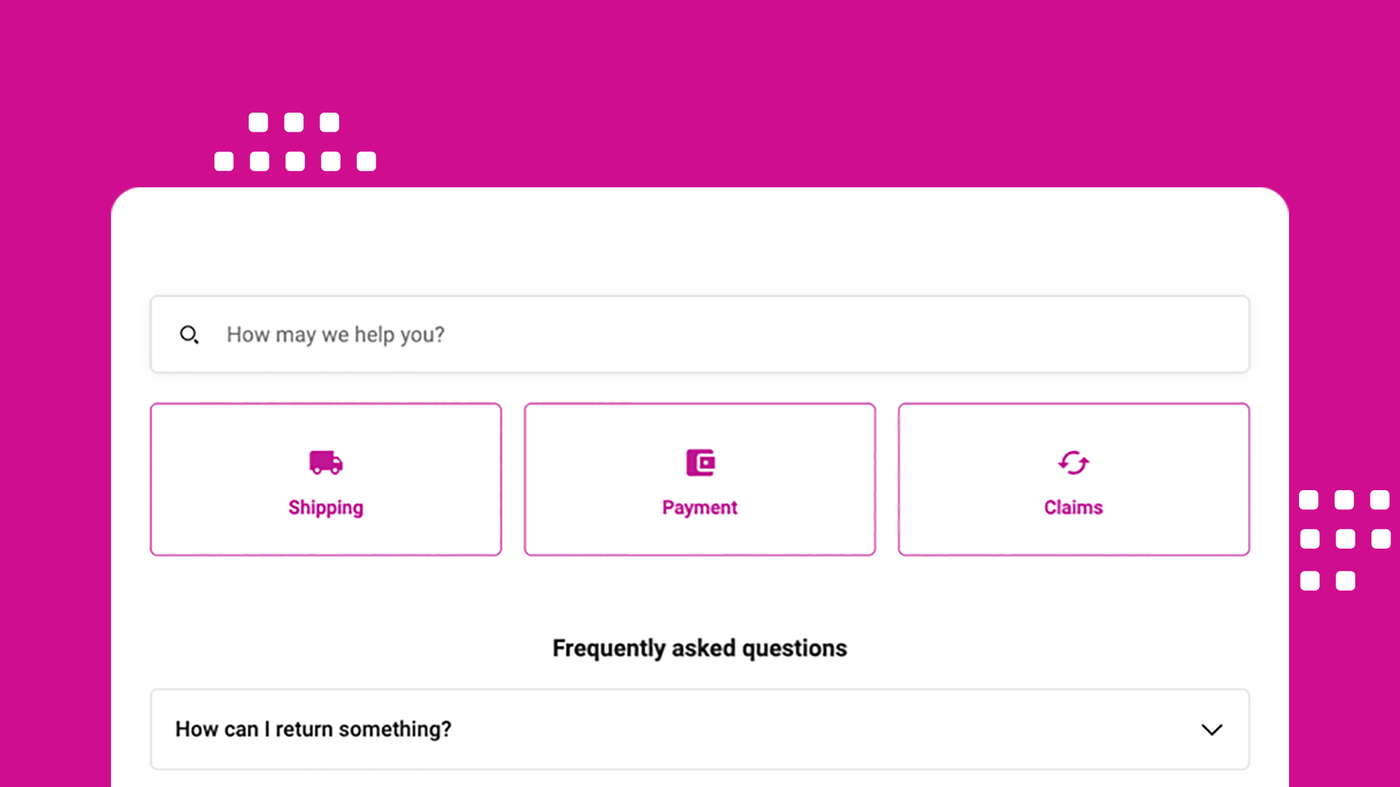 Help pages are frequently used ever since the uprise of the internet. Everyone has been to at least one help page in their life; maybe to ask about shipping or returns and refunds- customer service knows the answer. Most of the time, the help page is the starting point for interactions between the website and the customer, but if the page is ruled by chaos due to unorganized entries and makes it hard to find solutions, people would lose their interest and go offline.
Use OMQ Help to structure and design your help page in order to keep your customers from drowning in chaos and build customer loyalty! The following article will show you how.
Hooray! The new OMQ Help has arrived!
We are constantly working on small details to fine-tune our products. Our latest update, OMQ Version Oslo 9.3, is a huge step towards the improvement of customer service. The current version of OMQ Help is compact and structured, incredibly fast and uses complex shortcuts to find accurate search results. Detailed features are:
wholly Google and SEO-compatible
more than doubled loading speed
full-featured mobile version
Design completely reworked
Customize OMQ Help the way you want it
Other companies need technical staff in order to set up or edit help pages/FAQ's. With OMQ Help, any responsible service employee is able to navigate and handle its integration and its content- and without technical knowledge. Every configuration is accessible and manageable from the OMQ administration.
Your own brandings is important to you. With OMQ Help, the style of your help page is easily customizable to match your individual appearance.
Find & Seek in lightspeed!
OMQ Help finds suitable articles for your customer requests while they are typing it. The real-time FAQ arranges the most frequently asked inquiries at the top, so that there are fitting solutions for customers before they can even type in their issue.
Sometimes your customers don't know exactly how to word their question. No problem! With OMQ´s self service portal, your customers are guided to the right request topic. As a result, the site is navigated without putting much thought into it and still getting the right solution.
The navigation system of your help page
The OMQ Help auto-complete system analyzes every entry in your archive and extracts its most important characteristics. Picture a navegation system that you helps to go from A to B. Instead of directly showing the destination, the system shows intermediate places.
Google search engine uses an auto-complete system that focuses mainly on the frequency of occurrence, whereas OMQ targets the relevance of terms. That is a huge advantage because rare cases are found just as fast as common ones.
OMQ is completely SEO compatible. The entries in the OMQ knowledge base are automatically synchronized with the search engines. Thereby your customers can also find answers to their question directly in Google.
Perfectly adjusted to your mobile devices
Traditional search boxes are not compatible with our mobile world. The mobile version of OMQ Help has been improved with a complete overhaul. OMQ's search box opens as an overlay that optimizes the space between autocomplete, search results, and the keyboard. Your customers can find quick and easy answers to their questions on the go.
Better, faster, stronger
In contrast to the previous version, the size of the files to be loaded is only ⅓ and can be integrated with a fewer source code lines. Our latest version only uses HTML-elements, which means that Java-Script elements are not longer necessary. The implementation of the help page is quick and simple, and the load time has been cut down by more than half.
We're happy when you are!
Due to its clear arrangement, speed and intelligence, OMQ Help ensures that your customers have an excellent overview over the page and can orientate themselves. They are able to find answers to their questions in real-time, making it fast and easy.OMQ Help doesn't only offer improvements for your customers, but also for your business.
The first customers to choose the upgraded version of OMQ Help are the two companies Tchibo and Norma. For both of them, the following advantages were key point for their decision:
Automation of support processes
Central knowledge base for all the services processes
Userfriendly handling of the FAQ site
Fast and easy integration
By using the OMQ knowledge base, companies are informed in real time about all incoming service requests in the OMQ administration. Aditionally, every change just needs to be saved once in the system and then it is then available in all communication channels. This is a huge advantage, especially at times when there is a lot of traffic on the website, because multiple requests have to be answered as fast as possible.
The artificial intelligence makes it possible for your customers to contact you around the clock. The auto-answer erases the need of manual labour input, which saves time and expenses. Also, service employees can devote their time to individual requests, thanks to OMQ Help's automatic responses to standard questions.
Want to learn more about us and our products? Then don´t be shy, and contact us.