Helping Hands
Chatbots in Customer Service | Functions, Benefits and Application Options
What features must a chatbot have? We show you the most important tasks of a chatbot and practical use cases.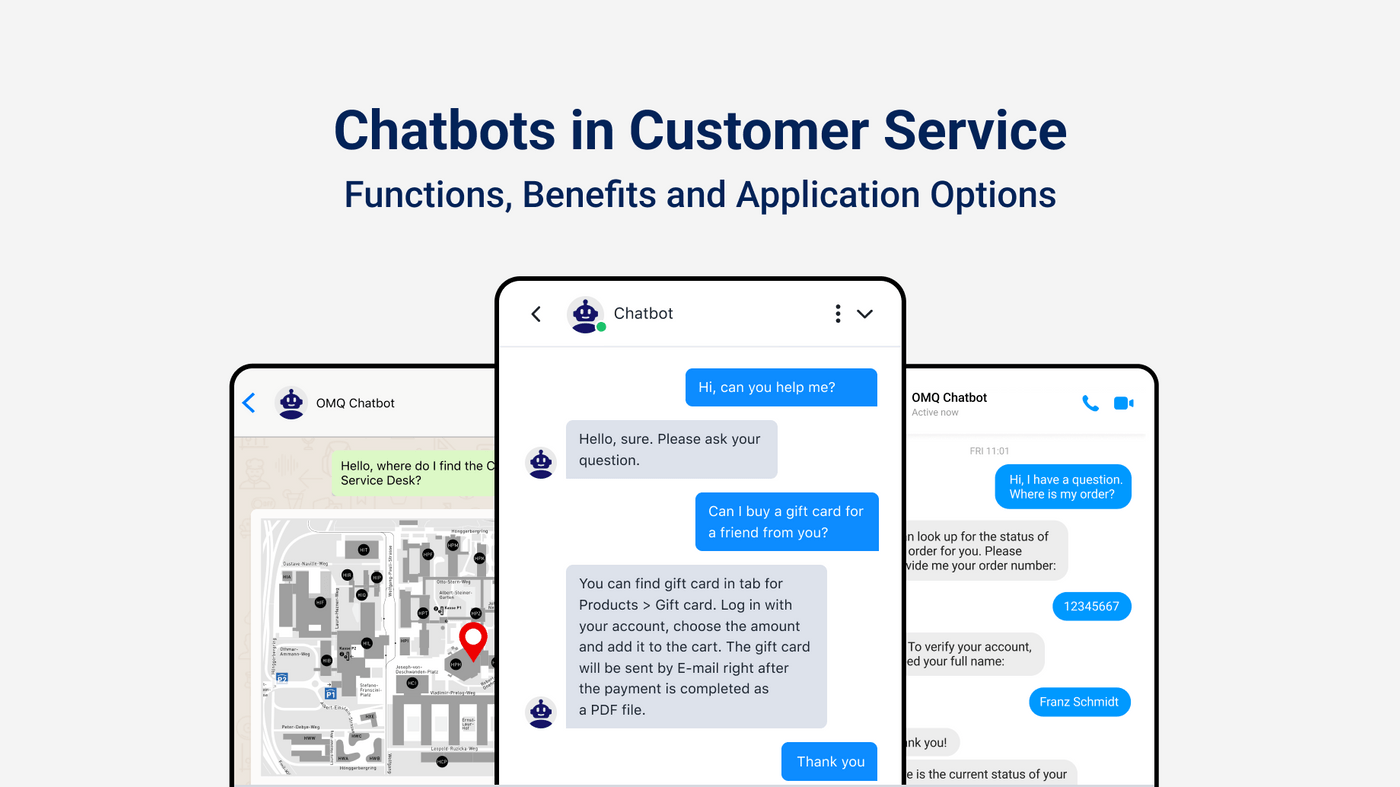 Chatbot Wiki – What is a chatbot?
A chatbot is a text-based dialogue system with which users can get in touch with companies. In doing so, the system draws on a pre-built knowledge database and is able to understand, link and respond to the structures and intentions of the messages with the help of artificial intelligence.
The main task of the chatbot is to answer customer queries quickly and easily in the chat. But there are even more features to an ideal chatbot that supports the company and improves customer service. It is important to mention that there are different types of chatbots. This article refers to AI chatbots.
More types of chatbots
Rule-based chatbots: This chatbot offers users predefined response options and is only recommended for simple, standardized processes. This chatbot is unable to answer new questions, but only the ones on which it was programmed.
Hybrid chatbot: Here, both ready-made questions and answers by clicking system are used, as well as natural answers to questions.
Intelligent chatbots: These are based on AI and Natural Language Processing (NLP), which allows them to understand customer requests and their intentions.
What does a chatbot need to be able to do?
Most importantly, a chatbot is available 24/7 and provides real-time answers. Of course, it should interact. This means that a fluid conversation with natural communication should take place. Another very important feature of chatbots should be that they refer customers to employees as needed.
For a company, it is also important that the chatbot is easy to integrate! A system that works out-of-the-box and does not need to be extensively trained is ideal for this. If the chatbot is integrated with these functions, it minimizes the workload for the agent and answers customer queries reliably. This saves costs and time while improving customer satisfaction significantly.
Chatbot Checkpoints
24/7 availability & answers in real time
Natural communication
Forwarding to employees
Simple integration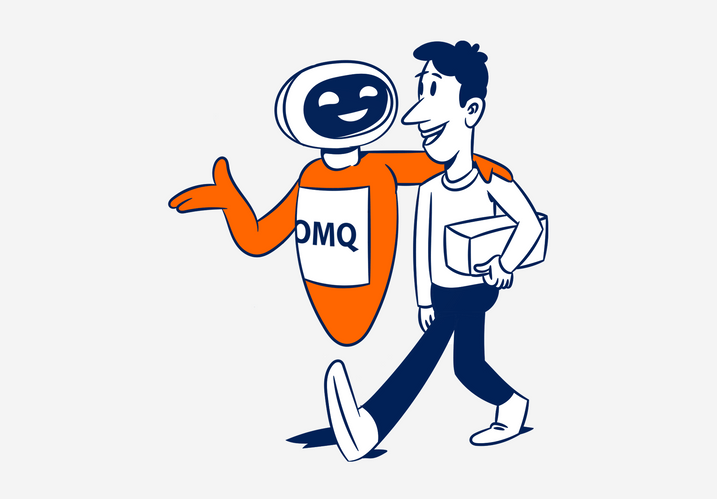 How do chatbots learn?
Most chatbots are linked to a knowledge database in which data (service knowledge in the form of questions and answer pairs) is stored centrally. The AI behind the chatbot is able to detect structures and link them to corresponding response pairs in the database.
The chatbot or AI learns continuously with feedback from customers and agents and becomes more precise with each question received. We at OMQ have also developed an AI that meets these criteria. Our AI also works out-of-the-box, i. e. immediately after successful integration, and is pre-trained and self-learning.
When does a chatbot make sense?
A great advantage of chatbots is that they are not tied to working or service hours. This means they can be used anytime, anywhere, and then answer customer queries around the clock, even on holidays. This relieves service agents, because the chatbot takes care of standard requests.
Basically, a chatbot makes sense for every company that offers customer service! If a company already offers a chat as a communication channel, it can easily be automated and then solve standard queries on its own. Individual cases can finally be taken over by employees.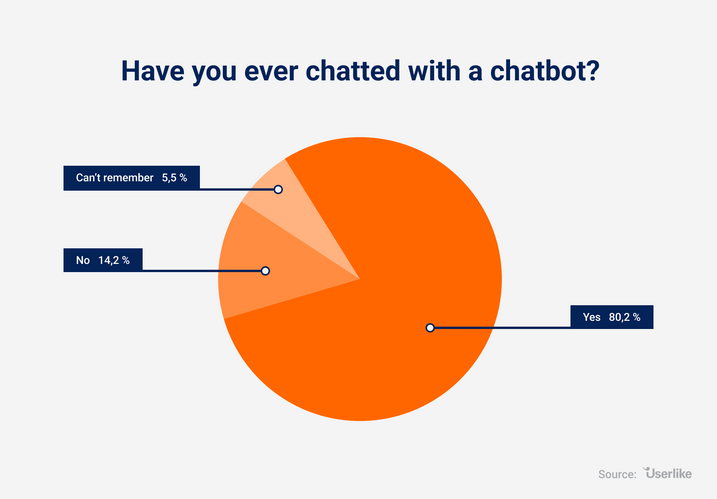 What are the benefits of AI chatbots?
AI chatbots ensure that various aspects of the company and customer service are solved quickly and easily. Among other things, they bring…
Increased customer satisfaction: The faster customers get an answer, the more satisfied they are. Intelligent chatbots can reply around the clock.
Scalable customer service: The chatbot can process thousands of requests at once and learns with each request.
Relief of service staff: Standard requests are answered immediately in the chat, while individual cases of agents are handled.
Accelerated processes, consistent quality: Recurring requests can be resolved in seconds, while the response quality remains the same across all channels.
Potential uses of chatbots
It does not matter in which sector the company operates. Our use cases show that a chatbot is useful in every area.
Chatbots in e-commerce: Use Case EMP
Our first use case is the merchandising company EMP, which uses the OMQ Chatbot. E-commerce is particularly well suited for the use of chatbots. At first the chatbot was used during the day only, but now answers customer enquiries 24h. Since 2021, the company has only used the telephone and the chat as communication channels, whereby up to 1⁄3 of customer enquiries are answered by the chatbot.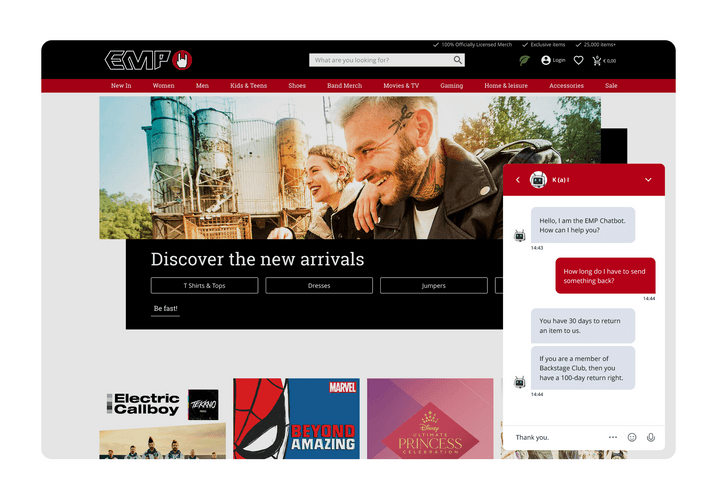 Of course, the chatbot is able to put customers in direct contact with employees. If an agent is online, customers are immediately connected via chat. If this is not the case, both the customer info and the chat with the chatbot are saved as a case in Userlike so that agents can reply by email later.
As already mentioned, the chatbot can detect the intentions of messages. For example, if customers write: "My T-shirt is too small", the AI detects that a complaint should be made.
The chat has been equipped with the chatbot and the service has been considerably simplified. The chatbot solution rate has increased from 20-25% to over 35%. In addition to EMP, other e-commerce companies such as baby-walz, wickey or Forever Living Products use our chatbot. The latter company uses our chatbot in English.
Chatbots for insurances: Use Case Wertgarantie
More and more people insure their smartphones, laptops, TVs, etc. However, when a damage occurs, they often do not know how to report it. Wertgarantie facilitates this process by simply transferring the claim report to the chat and there step by step request information from the customer in order to solve the request.
There is an individual solution and answer for every case of damage and every device. Therefore, it is important that the chatbot asks questions. The chatbot collects the most important information.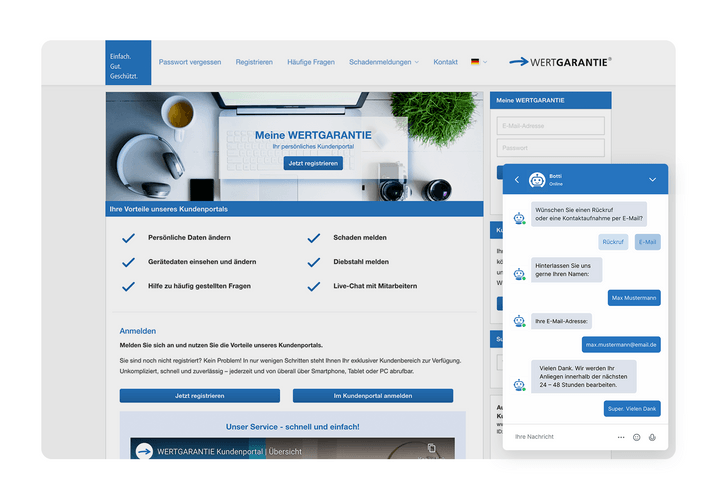 Here the clickbot method is used, which takes place in the chat and is part of the communication. The chatbot queries information and can find solutions accordingly. If a personal consultation is desired, all information is already available and can be used by the employees.
Chatbots in tourism: Use Case Kuhnle Tours
In order to minimize requests on the website, the tour operator Kuhnle Tours decided to integrate an OMQ chatbot. "Bootsy" now answers 60% of the requests. A special feature of the chatbot is that it knows that customers often ask about availability, which is why this question is asked before the actual communication, because Kuhnle Tours also rents boats. But of course customers can also ask all other questions, which the chatbot can then answer automatically.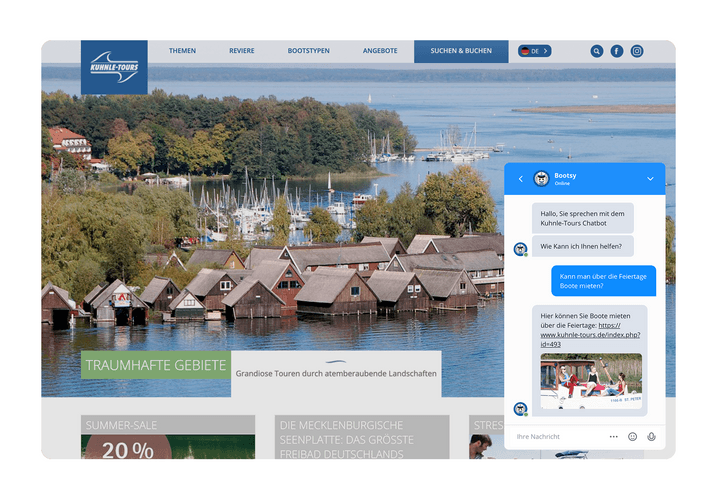 Live chat software automation
The automation of the chat offers companies above all relief and a great saving of resources. The chatbot can enhance any live chat system on websites and can also be integrated into messenger systems such as WhatsApp, Telegram, Facebook Messenger and as a plugin for Userlike.
With OMQ, the integration is out-of-the-box and ready to go, so your new chatbot can respond instantly to customer requests. Contact us today to learn more about our software or arrange a demo with us. We look forward to seeing you:)
FAQ
Is the chatbot supposed to look human?
What is the difference between robots and bots?
What types of chatbots are there?
What are the benefits of chatbots?
Which companies use chatbots?
How much does a chatbot cost?
What does a chatbot do?
What does "chatbot" mean?