Helping Hands
How to Integrate a Chatbot to Your Customer Service | Live-Chat Automation
Integrating an AI Chatbot can be easy if you get the right one. You can improve your customer service chat through AI automation without needing a specialized IT Team.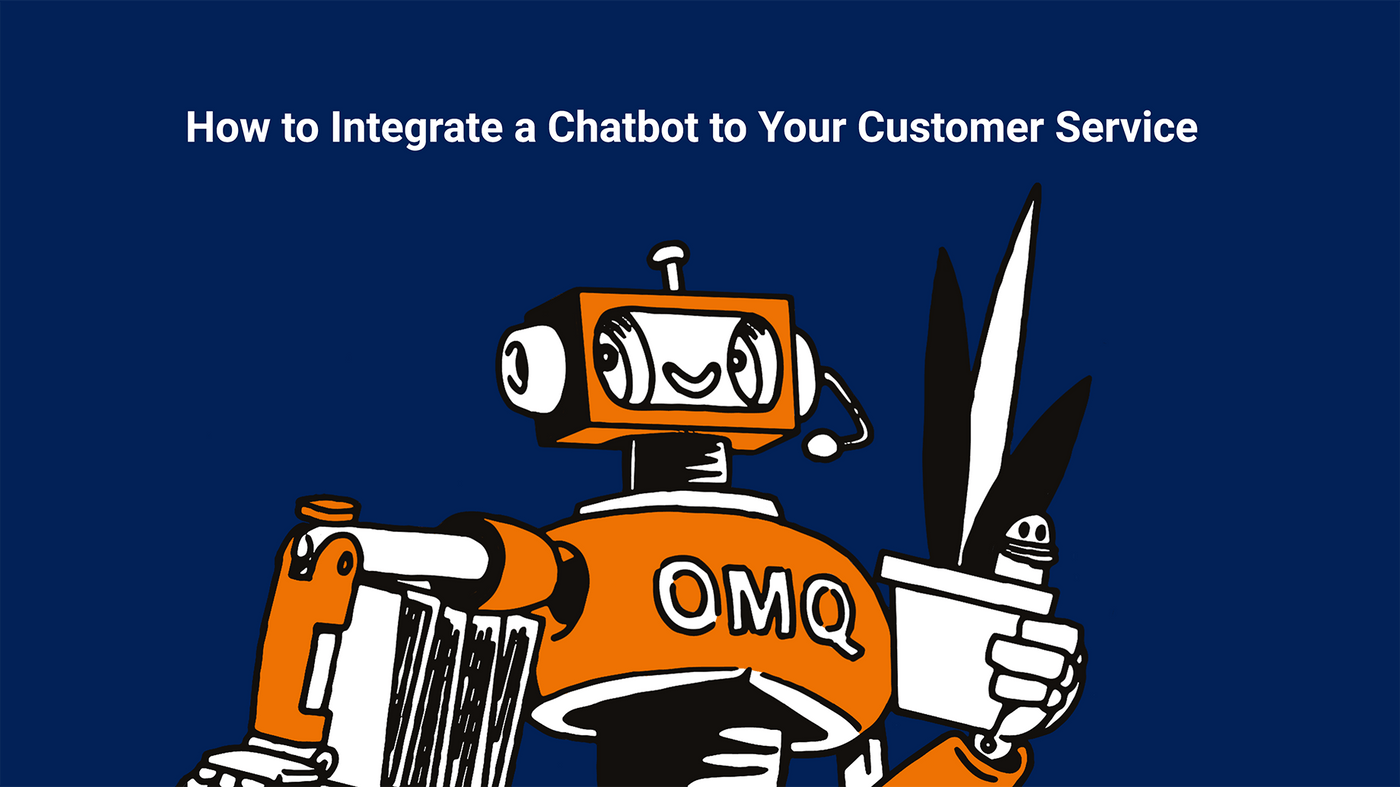 Since the introduction of live chat to various platforms, it has become a popular communication channel, not only for social purposes but also when reaching out for support or contacting customer service. The main reasons why customers prefer chat is because of its availability, accessibility, and the fact it provides an alternative that keeps the natural flow of communication.
Live-Chat is a great tool to have in your communication channels, however, it depends on agent availability. The great news is that it can be solved by simply adding a chatbot that will take care of your customers 24/7.
In this article, we show you how easy it is to integrate chatbots into customer service.
Interpreting Messages & Chatbot
Companies are skeptical about integrating a chatbot into their already established live-chat platforms because they worry about the bot's answering process to customers' requests, which might lack human understanding. Their concerns are not unfounded, as users often chat with bots as they would with other people, and this relaxed way of writing brings problems for some chatbots when interpreting messages. The main reasons for this problem are:
Bad grammar or missing punctuation
Using new words to refer to a product or service
rambling or long messages with questions in the middle
However, it is important to point out that not every chatbot is created the same. To solve this understanding issue it is best to integrate a conversational AI chatbot with Natural Language Processing (NLP) as it compensates for the lack of human interpreting skills.
A good AI-based chatbot with NLP is able to overlook bad grammar or missing punctuation while scanning the whole message and detecting the actual request. It should also be able to have a deeper understanding of customers' intentions and to learn and associate new keywords with an already existing topic. For example, when the customer of an online optician buys a pair of glasses and receives them broken, they will make a complaint saying that the item arrived broken, missing the "rubber". OMQ has developed an AI that is able to understand the customers' intentions. It automatically reads the request and understands that rubber is referring to a part of the glasses, which is the nose pad. The AI then gathers the request is really a complaint, and the chatbot then sends the matching answer. After answering the request accordingly, it learns and stores a new keyword relating to nose pad.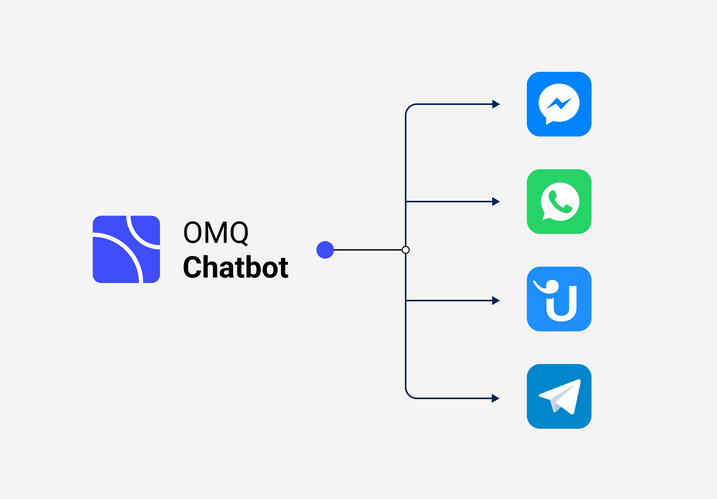 The conversational AI-based chatbot that OMQ offers is a solution with NLP. The OMQ Chatbot is able to process customers' requests in more than 32 languages. It's the only solution you will need for chatbot in your customer service as it works on different platforms such as Facebook Messenger, WhatsApp, and Telegram, plus in the website's own chat. It even allows an easy transition from a bot to an agent when it's needed.
OMQ Chatbot: Easy Integration, Out-of-the-box
Another great point of concern for companies is the integration process, as adding new technologies may require having an IT team specialized to make the transition. OMQ Chatbot cuts out that IT team by being easy to integrate and working from the first use.
OMQ Chatbot is pre-trained to carry on a natural conversation with the customer and starts answering questions out-of-the-box. The answers to the requests are stored in the OMQ Knowledge Base, which is a centralized knowledge base that stores all the service information in question-answer pairs and manages it among all communication channels. Additionally, the OMQ system learns unsupervised with every use, making it better and more accurate after every interaction.
Chatbot: How to Automate Your Customer Service Chat with AI?
To start automating your chat communication channel with OMQ Chatbot, you first need to have a Live-Chat service such as UM from Userlike or Zendesk. As stated before, you do not need a specialized IT team to integrate the bot, nor to maintain the system and it takes less than a day to complete.
Each platform has its own settings and layout, however, all our products integrate through a secret token or as it is better known: an API Key.
An API Key is a unique identifier that will connect your Live-Chat services to our OMQ Chatbot plugin while giving you the rights to access our bot and its settings. When you contract our services, we send it to you, so you just copy and paste to then configure, manage and deploy OMQ Chatbot into your platforms.
How to Integrate the OMQ Chatbot into Userlike
To integrate OMQ Chatbot to Userlike, you first need to look out for a few things, but it's still simple. First create your widgets, team, and profile before clicking on "Add Chatbot" to integrate OMQ Chatbot. After setting it up, and even giving your bot a name and last name, you need to add the API Key by copying and pasting the Webhook URL that contains both your OMQ account name and the secret token provided by us.
It looks something like this: https://[ ACCOUNT NAME WITH OMQ] .omq.de/api/chat_bot/userlike_um/message?api_key=[ CHAT API KEY]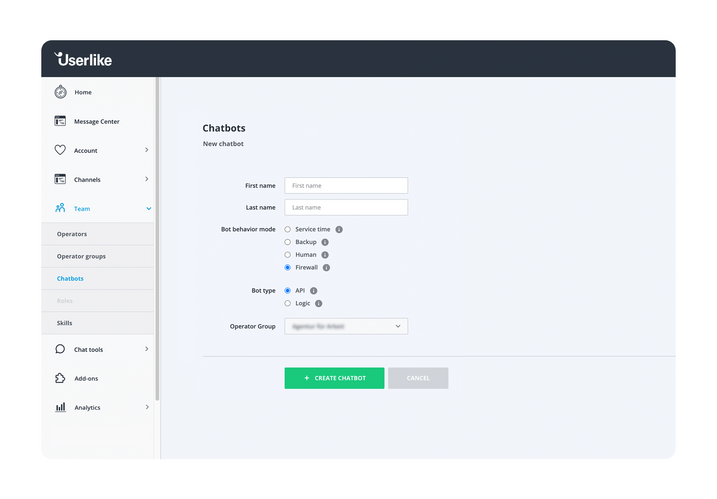 Then just click on "Update Settings" and finish managing all the features OMQ Chatbot has, such as how many customers can a bot manage at a time, how long should the bot stay on the chat without interaction before closing the conversation, and so on.
Our team is always available to support you with the integration process. We compile reports and analyses routinely, and make additional follow ups to improve the solution rate.
How to Integrate the OMQ Chatbot into Zendesk
The integration process into Zendesk starts by looking up the plugin in the Marketplace, where you can directly look for OMQ Chatbot and add it to your tools. Then just add the API Key provided by us and configure it to your liking.
In both cases, OMQ Chatbot will work immediately if it is integrated correctly. There is no transition, nor training time.
What Are The Benefits of Chatbot Integration?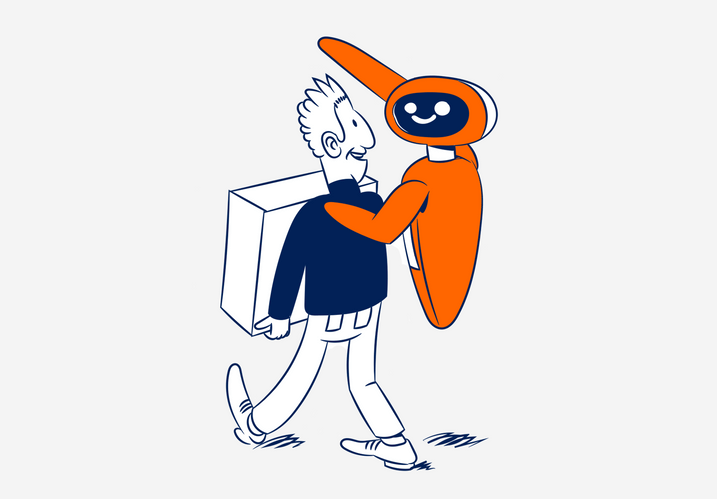 Integrating a chatbot to your system benefits both the company and its customers, which is a win-win situation for both. Some of the benefits for the company are:
Reducing agent's workload
Enhancing customer engagement and satisfaction
Time and cost saving
Omni-channel integration
Customers can also benefit from the chatbot integration as you offer a new way to communicate directly with the customer service teams. These chatbot benefits to customers include :
Flexible platform availability
Instant interactions,, no waiting time
24/7 availability
Consistent answer quality
Interactive Answers with the OMQ Automator
Another great tool that OMQ offers is the OMQ Automator, which acts as a smart agent by answering those questions that require more information than just the standard answer. It does so by asking for relevant information for those interactive requests and connecting to the backend server to look for the answer or make the requested changes in the background.
By adding OMQ Automator to the OMQ system you can continue giving interactive answers, or making time-sensitive changes even when no human agent is available. It even helps agents with the workload, because the RPA technology does the same tasks quicker by using a virtual workspace to make the changes or recall the information from the backend server.
RPA (Robotic Process Automation) refers to the automation of processes by using software robots.
An AI Chatbot Solution for All Industries
OMQ Chatbot is optimized for customer service in general. Whether it be for an educational institution, a public transport company, or eCommerce, it automatically takes care of the customers' requests. As mentioned before, a great thing about this AI-based chatbot is that it is pre-trained. This allows faster implementation of its automation as it has the service knowledge already available for their needs.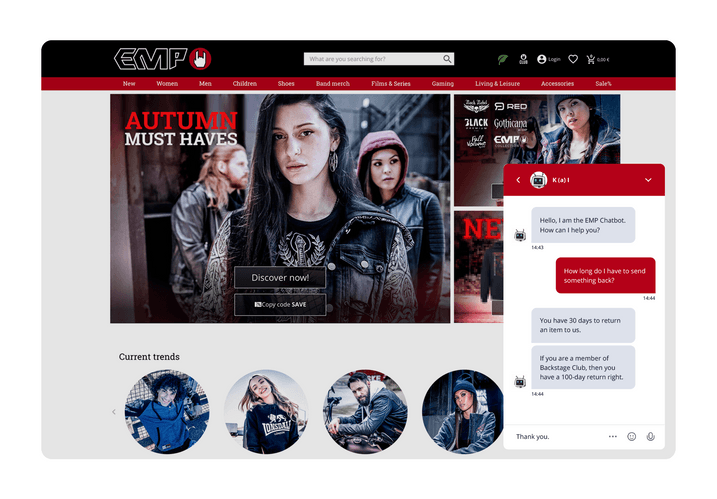 We have clients from a wide range of industries, including insurance with Wertgarantie and Friendsurance, energy suppliers with Stadtwerke Düren and Stadtwerke Brandenburg, as well as eCommerce with EMP, babywalz, and Tchibo among others. All of them have received the best support from our team and have seen improvement in their answering rate as well as customer satisfaction.
Chatbot Use Cases: How OMQ Optimizes Customer Service in E-commerce
To showcase this, let's take eCommerce, which has taken over the retail industry. Although it has a wider reach, it is also more demanding for the customer service team because the starting point of contact with the customer is already online and relies on technology. This puts the expectation of having good online customer service at a higher level than those shops that start with personal interaction.
An example of a successful implementation of OMQ Chatbot is EMP introduced our bot to their communication channels. This eCommerce company was able to notice changes in the customers' behavior, as well as an improvement in solution rates and a reduction of workload for agents.
To summarize the collaboration results:
Customers made more use of the chat once it became available 24/7.
The solution rate went up by more than 35%.
The workload was reduced by more than a third.
OMQ Customer Service Software: More Than Just a Chatbot!
OMQ does not only support agents by taking over the Live-Chat services with OMQ Chatbot, it can also help with other communication channels such as ticket systems, help pages, and contact forms. It can even automate your email inbox!
If you want to know more about our integral solution or request a demo of our products, you can send a message to our sales team! We will be more than happy to help :)
FAQ
What are the advantages of Live Chat?
What are the benefits of using a chatbot in customer service?
How do I add a Live Chat on my website?
How can you automate live chat in customer service?
Is customer support through live chat effective?
What is automated customer service?
What are ways to improve automated customer service?