Professional Voices
Use Case ETH Zurich - Customer Communication Lessons Learned in Times of Crisis
ETH Zurich automates their service with OMQ AI and improves its customer communication with students and employees.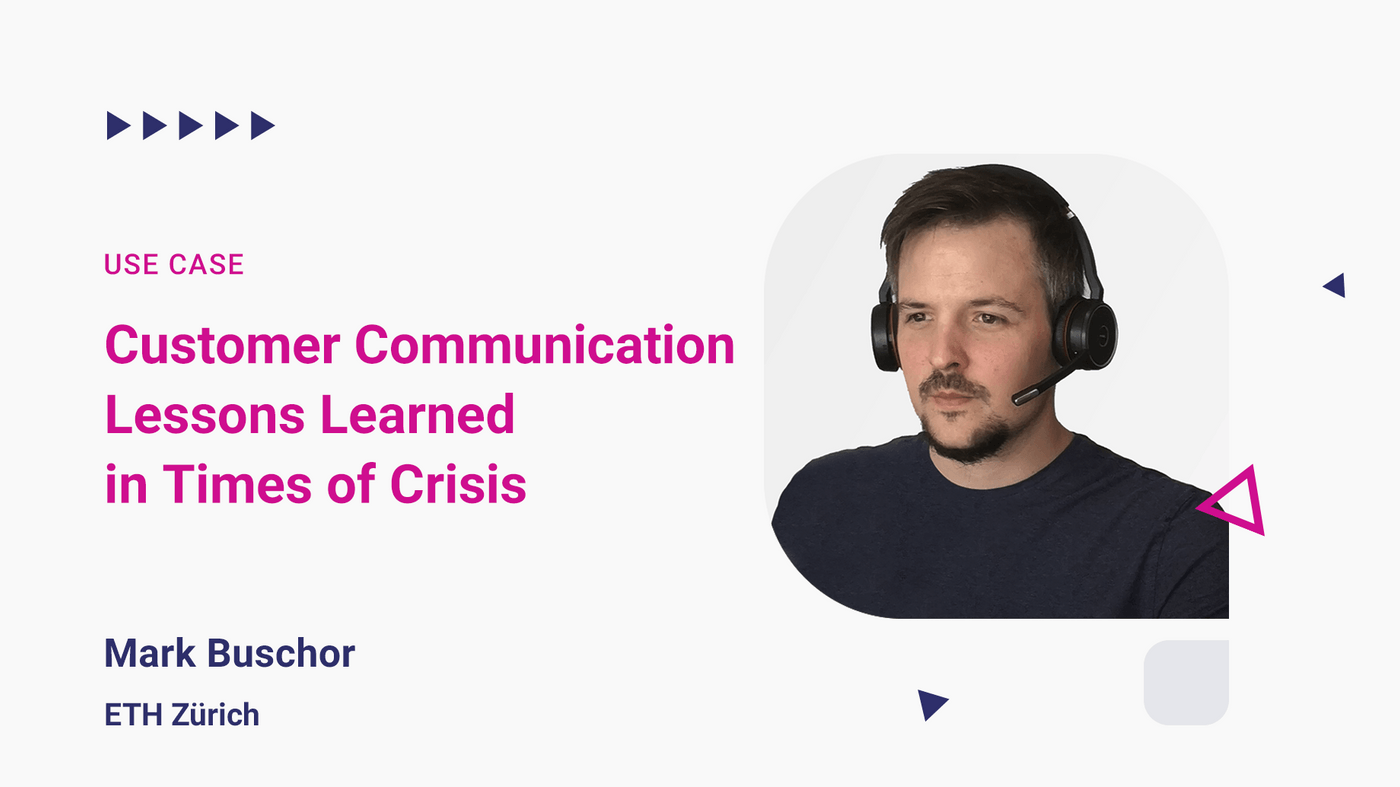 At this year's Rooftop Event, we were able to speak with Mark Buschor from ETH Zürich via online video conference. ETH Zürich has been one of our clients for some time, and in the following interview we ask ourselves how AI ensures customer communication in times of crisis.
Sven: Hello Mark. We've known each other for quite some time, but the audience hasn't heard of you yet. Can you introduce yourself and tell us about ETH Zürich?
Mark: My name is Mark and I am the head of the Computer Service Desk at ETH Zürich. ETH Zürich is the Swiss Federal Institute of Technology of Zürich, a university with a focus on the technical and natural sciences. We have more than 20,000 students and more than 10,000 employees.
Sven: What was the situation at the university like when the pandemic started? What challenges did you face?
Mark: Until the last day, we didn't believe the lockdown was actually coming. We also weren't ready to put the whole school in the home office right away. At that time, we had messenger services such as Skype for Business as "niche products" for our employees, we had nothing for our students. We did have a Microsoft Teams pilot, but it was, as I said, just a pilot project with only about 100 people taking part. Lectures were also held in person until the very last day. In a cloak-and-dagger operation, we actually had to migrate 10,000 people to Zoom.
Sven: Migrating 10,000 people to Zoom – that definitely leaves some questions. What were your most frequent questions?
Mark: Basically everything related to IT services – and very zoom-specific. How do I activate my camera? How do I do a lecture with 200-300 people? But all in all, they were the same 20 to 30 questions over and over again.
Sven: You use OMQ in your IT service. We would be interested to see how our system has helped you!
Mark: We actually do have all the plugins you offer, except for OMQ Reply. We have started to place the plugins systematically at all points that point in any way towards the service desk or IT services. In other words, whenever the customer is on a website that deals with these IT services, he has to read these OMQ suggestions.
Sven: Okay! You said that you use our system in the chat, in the contact form, in the FAQ's – and our system works in real time. Especially in the Corona pandemic, we have experienced that the presentation or provision of solutions in real time was existential. Have you had that experience too?
Mark: Yes, that's right. We have found that, especially in the complex IT environment that is constantly changing and changing, it is extremely difficult to push and update information in real time to the right places.
Sven: People are always interested in numbers, of course. Could you give us some numbers? How many questions do you intercept?
Mark: In 2020 we had 26,000 requests and in addition we had over 9,000 clicks in our OMQ plugins. So almost 9,000 potential queries that were not made because they could be answered directly.
Sven: Were there any other factors for you? Were you able to focus on the essential, bigger problems?
Mark: Of course. We also noticed that with OMQ Assist we saved a lot of time in the ticket system because we were able to "kick out" the predefined answers about zoom.
Sven: Does it also save training time? So, is it easier to train your employees?
Mark: Yes, the big goal is of course that one day you will be able to sit a new employee and answer 50-60% of the questions directly with OMQ.
Sven: We still have that goal in front of us! We've been working together for a couple of years, since 2013, to be exact. Can you remember what the criteria were to use a system like ours?
Mark: Yes, I wanted to find something where I could really keep the questions and answers in one place and publish them in as many places as possible. At that time there were only OMQ Assist and OMQ Reply. I think I noticed OMQ by chance via Facebook and liked the tool – had to inform myself about it and bought it shortly afterwards.
Sven: OK, Coming back to Corona, what are your biggest learnings? Have you had any experience?
Mark: From our point of view, the essential thing is that we can change the information quickly and easily at one point and then change it directly at all other points. From the user's point of view, it has to be easy to find, we have found that the motivation to search for something is very low. Especially if you're studying at the same time.
Sven: Now, of course, we've seen that students are also a bit demanding. What was the general feedback of the students on the OMQ system? Were there certain things that you noticed after the introduction to the service?
Mark: The feedback was mostly positive. The OMQ Help module was very, very well received. We introduced this right at the start of the semester and then had a fairly high peak within a few days. Most of the feedback was that IT should be simple and help should be guaranteed around the clock, which we are unable to cover with our employees at the service desk. That's why Artificial Intelligence is already very practical.
Sven: You provide information 24 hours a day, what is the relationship with the students like? Are the students open to something like that?
Mark: Of course. The "digital natives" want to try everything. Good customer service naturally increases confidence in the university and in the IT services.
Sven: Mark, thank you for the interview!
Do you want to optimize your customer communication – like ETH?
… just write us via our contact form then! We are happy to help you. On our product page you can find out everything about OMQ Help, OMQ Contact, OMQ Assist, OMQ Reply and our OMQ Chatbot. We look forward to seeing you! :)