Events
Keynote - Customer Service Trends | OMQ Rooftop Event 2021
In this article, we summarize the keynote from OMQ Rooftop Event 2021 by our CEO Matthias Meisdrock on customer service trends like chatbots and AI-based service tools.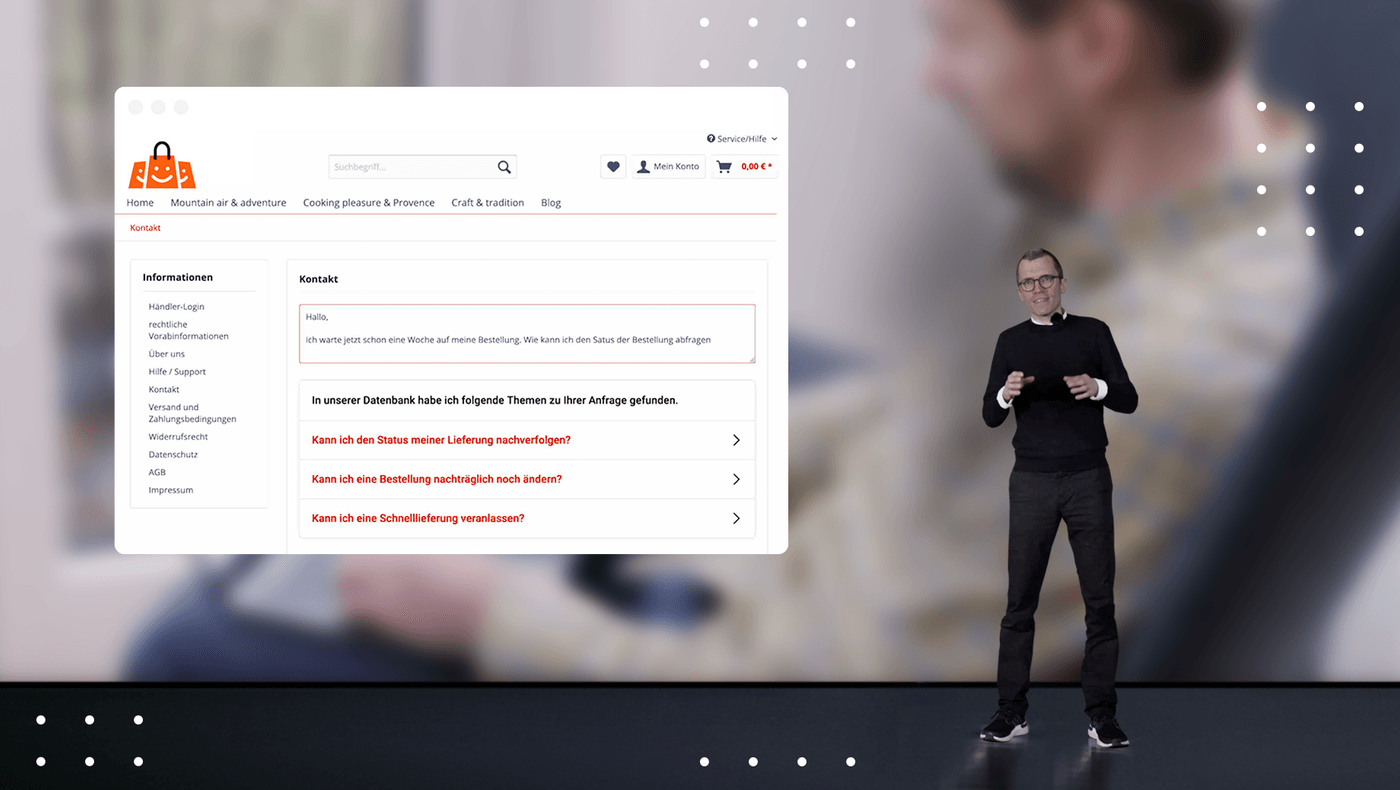 This year, we were able to meet over 100 executives from customer service, E-Commerce, marketing and many other industries at our Rooftop Event and shared information about current customer service trends, chatbots and AI-based service tools. As always, the focus was on how customer service can be better and more efficient.
After our last Rooftop Event 2020 took place in the Treptowers high above the rooftops of Berlin, we had to resort to the Streamquartier and design our event digitally this year. Nevertheless, we were able to make many contacts on March 24th and had a very nice evening, where our CEO Matthias Meisdrock gave a talk about customer service automation, which we summarize for you in the following article.
The OMQ Story - development of an idea
Service employees who have to answer the same questions over and over again. Too few resources and too little time to improve. Dissatisfied employees and perhaps even inadequate service – that's what our CEO Matthias Meisdrock experienced about ten years ago when he worked as a developer in a software company.
His office was right next to the service department and he was aware of the problems with customer service on a daily basis. On the one hand, the recurring inquiries that accumulated, on the other hand, the individual cases in which the employees had to consult each other because of a lack of service knowledge. He thought about how to solve these problems: The customer language should be understood and answers found. However, the service staff felt that the technical effort for a solution like this would be far too difficult.
The idea behind this was to develop a system that only needs to be taught how to answer a question once and then takes over the answering of service requests automatically and independently on all channels. The system must be able to assess and analyse requests and then find appropriate answers. After years of work in cooperation with international research institutions, OMQ has developed an Artificial Intelligence that can do exactly that: evaluate, analyze and filter intentions to give your customers the right answers.
How is the OMQ software introduced?
To use the OMQ software, first fill in the knowledge database in the easy-to-use user interface and create different categories such as ordering, payment or account. Questions and answers are assigned to these and the system is thus taught how to answer a question.
Once the knowledge database is filled, you will open another module in which you will create a link and automatically generate an API key. You will receive two lines of source code, which you copy to your website or use with our plugins for shop systems. After the connection, for example, the contact form is able to answer customer enquiries autonomously. Questions are answered directly without the need to send the message to the customer service.
How OMQ is used in customer service
OMQ Help
With the integration of OMQ Help the OMQ software is generated on help pages. For this purpose, source code is copied to the page with API Key. With OMQ, the page is filled with a structured help area. Customers can then enter a term in the search field and receive the answer to their questions in real time. Thanks to the intelligent auto-completion and category search, they are also guided directly to the right topic. When the customer enters a term, additional terms that logically match it are automatically displayed and lead directly to the solution.
Another way to quickly get a solution with OMQ Help is for the customer to click on one of the available categories. In doing so, the software determines which requests are currently most frequently made and arranges them according to the frequency of requests. For example, if there is a voucher campaign that is currently up-to-date, the customer will find the most frequent queries on this topic at the top, can click on the solution directly and does not need to search for it.
Advantages for the customer::
Intelligent auto-completion
Category search
Arrangement of the frequency of requests
OMQ Contact
OMQ Contact is integrated with a source code and an API into the message field of the contact form and examines it when entering a question with the help of our AI. If the customer wants to ask a question about the status of their order, they enter it and the corresponding answers will automatically appear under the message field.
When clicking on the order status question, an answer will be displayed in which they can enter their contact information (e-mail and password). After that, they receive a solution immediately and their question does not have to be answered at great cost by the service.
the AI understands the customer's concern
can adapt to individual pages (branding!)
is also available on mobile devices adapted
OMQ Chatbot
With the help of the OMQ Chatbot customers are supported via live chat on websites and messengers such as WhatsApp and Facebook Messenger. The API key is integrated into live chat systems such as Userlike. Both systems connect with each other and then work together.
A possible example is when a customer asks himself where he can drop off his parcel. He is on the move and uses WhatsApp to ask the company his question. The chatbot analyzes the intention he has with his message and then automatically gives him an answer. In that case, they would be supplementary questions such as: "In which district are you located?" and "Which service provider do you want to use?"
After the customer has answered these questions, a QR code is generated which he can use to submit to the parcel shop. In addition, a display of the route to the shop appears. The customer is thus navigated by the chatbot to the parcel shop and is already in possession of the QR code. As a result, he has found a mobile solution to his problem.
Help in real time
Live chat feature
Answering questions and offering solutions
Support of service staff by the OMQ system
OMQ Assist
The OMQ system does not only help customers, but also relieves service employees. The OMQ Assist plugin for ticket systems (e. g. from Zendesk, Freshdesk, Salesforce or Greyhound analyzes incoming requests from customers and generates suggestions for appropriate responses to requests.
The service worker clicks on the appropriate answer and thus automatically compiles an e-mail which can be sent immediately. OMQ Assist guarantees that customers always receive the same quality of answers. At the same time, OMQ Assist means that employees are greatly relieved of their workload and are able to respond to customers more quickly.
Pre-made e-mail templates
Display of the answer preview directly in the answer field
Answers with just one click
OMQ Reply
Direct reply to e-mails is guaranteed by [OMQ Reply] (https://omq.ai/products/reply/). It is also integrated into the ticket system. The e-mails that arrive in the system are analysed by our software and answered by a virtual employee using AI, when it's sure it's figured out the right answer.
OMQ Reply brings the ticket system into the e-mail inbox. The automatic recognition of customer enquiries, their direct response and subsequent documentation omits the manual work of the service agent.
in case of several questions in an e-mail, each one is answered individually
the solution is highlighted in the answer text
saves solved requests as tickets
Areas of application of our AI
Not only E-Commerce benefits from OMQ's AI technology. OMQ also helps in the areas of software, insurance, industry, transport, tourism, public utilities and public institutions to answer customer enquiries quickly and efficiently.
If you would like to learn more about us, our AI and/or our products, please contact us here. Our talks from 2019 and 2020 can be found, as always, in our OMQ Magazine. We are looking forward to hearing from you! :)
See you next year!
We hope to be able to share our knowledge of customer service automation back on site in 2022. But no matter whether physical or live stream: See you at the Rooftop Event 2022!
In the meantime, we are happy about all the positive feedback and the many guests who attended our Rooftop Event 2021 and shared their knowledge and thoughts with us. Thank you to each and every one of you.