Helping Hands
The OMQ Integrations - Together for a better Customer Service
By using our OMQ integrations in these third party systems, you can improve and automate your customer service with Artificial Intelligence.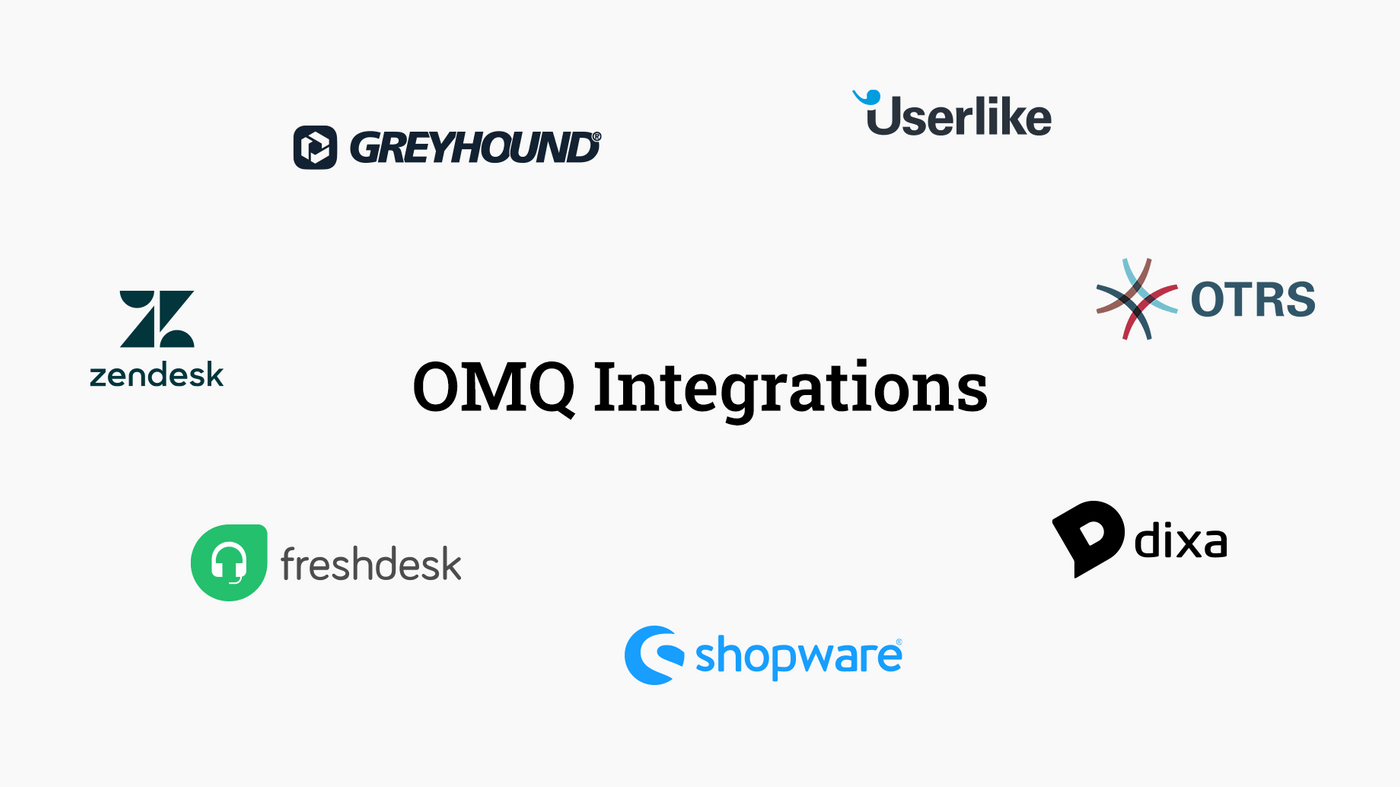 We know that looking for a solution that fills all your needs can be exhausting, it also requires long hours of comparing and really looking into each option, especially if your company uses other services. The good news are that our system can be used anywhere, and we provide the same high quality standard across all of our solutions, including the third party integrations.
Our products as integrations for third party systems
Each of OMQ software solutions improves customer service by automating the answers with the help of AI technology. Our system supports the main customer service channels such as:
Our system can be used separately, as an independent software added to your toolbox or as 3rd party integrations with platforms that support the OMQ plugins. In this article we go through the advantages of 3rd party integrations.
Why 3rd party integrations might be the best solution for your company?
CRM Platforms offer customizable solutions
Customer Relationship Management (CRM) software has the goal of improving companies' connections with their customers and new leads, while also keeping the team efficient. This can mean different things to each industry and to each company.
The software has standard functions and services for contact management, sales tracking and lead follow up among others, but the right CMR Platform should offer customizable solutions through plugins, that way you can choose which issue to tackle and how to do it.
OMQ plugins offer process automation, improving the flow of customer service requests.
Every tool you need in the same place
It can be hard to keep track of the different departments that need to communicate with customers: from sales, customer service and even marketing.
3rd party integrations keep things tidy because you do not need to manage additional platforms. Every tool your company might need, you can find, hire and manage from the same place, which not only ensures a clearer customer service contact flow, but also improves internal communications between departments.
Create and Maintain Customer Loyalty
Whether your company has been already established in the industry for a long time or you are a newcomer, it is really important to create and maintain loyal relationships with your customers. By opening up for online business, those relationships can suffer if not supported by the right tools.
Already established CMR platforms can provide that support for both the customers and your workers. This support is much needed when managing old and new contacts, sales and even customer questions. Having a reliable customer service is key to ensure the success of your company.
Having a CMR platform that supports big names in your industry can give you peace of mind, as you know it works, it can help your workers, as they are using it without any issues, and satisfy your customers, as they experience the efficiency of having their requests answered timely.
What integrations does OMQ have?
As stated in the beginning, OMQ can automate answers in the main customer service channels. When it comes to our available plugins, this is no different, however, the plugin offer varies platform to platform. Here is a comprehensive list of the integrations we offer. You can always click on the platform name to know more about our integrations with that platform and how to add it.
Ticket System + OMQ Assist = Smart Agent Peer
A common communication channel between companies and customers is the ticket system, and a lot of the CMR platforms offer one as part of their services. The issue with those tickets systems is that they have to be answered manually, which can lead to delays in the customer service, and therefore contributing to the customer unsatisfaction.
OMQ Assist helps the agents with these requests, by automatically identifying questions and searching the answers in the central knowledge base. Then our AI suggests the answers and the agents can complete the reply by clicking on the matching answers displayed. Which means your agents will have a smart assistant that will boost their productivity.
You can integrate OMQ Assist plugin to the following CRM systems:
Shopping System + OMQ Help = Smart Helper
E-commerce has been becoming more popular in the past few years, and even more since last year. Some platforms are dedicated to offer integral solutions by helping companies set their online shop and managing the content and communication channels, all from the same place.
One of the main resources companies must offer their customers is a help page that can guide them and answer their question without the need of contacting someone else or typing in an email. A good help page must be clear, easy to use and organized.
With OMQ Help you can take it to the next level and set up an smart help page, which will not only be divided in categories and have a clear layout, but also tracks customer behaviour to display the trending questions at that time, and constantly updates them. This does not only makes it easier for your customers, but also decreases incoming tickets or complaints. You can automate your help page with OMQ Help as a pluggin in the shopping system Shopware 5 and Shopware 6.
Shopping System + OMQ Contact = Smart Shopping Assistant
Another communication channel that is used often in ecommerce are the contact forms, as it's a nice way to get assistance with your shopping if there are any doubts. These requests are the main cause for delayed tickets.
OMQ Contact decreases the number of requests sent by providing immediate answers, as soon as the customer types the question in the field. Our AI-based software will automatically search for an answer and display it right next to the contact form, so there is no need to send it. It's like a smart shopping assistant.
You can find OMQ Contact as a pluggin in the shopping system Shopware, for version 5 and version 6.
Chat System + OMQ Chatbot = Messaging Buddy
Chat systems such as Userlike offer flexible solutions for customer communication. Their goal is to bring instant messaging to customer support, both live and offline. The main benefit of implementing messaging support is its convenience for both the company and the customers, and Userlike offers assistance for both web and mobile messaging.
Userlike was reworked recently, and it is now called Unified Messaging. This took place because they realized how the trends were changing: customers do not want to wait for an answer and companies cannot rely on having someone online 24/7. Their new system now offers both synchronous and asynchronous messaging support.
With the OMQ Chatbot integration, you can have messaging buddy in your Userlike system. This chatbot automates the answering process, meaning that you will not miss an opportunity to take care of your customers. The best part is that it works for both web chat and mobile platforms such as:
WhatsApp
Facebook
Telegram
SMS
Another great chat system that carries our chatbot technology is Zendesk. If you are already using Zendesk or Userlike system and want to get a demo for OMQ Chatbot, you can request here.
Email System + OMQ Reply = Inbox Wizard
CMR Platforms have different solutions that can help you manage your customer relations better. Among those solutions, they also offer an emailing system, that can work similarly as the ticket system. The email system usually involves the same agent that answers the tickets, therefore, they are answering the same questions manually, making the customer wait.
OMQ Reply works by opening the emails automatically and composing a reply with the appropriate answer to send it out to the customers. You can take advantage of our AI based software within your inbox in the CMR platforms.
OTRS 5 and 6 is one of such software that can organize your inbox better. And together with the OMQ Reply integration, you can have an inbox wizard that will make it easier for you to manage your email.
Get your Demo
If you find that one or more of our solutions can help improve your customer service, you can always ask for a Demo. Our sales team will be more than happy to help you.
You can get a Demo in the marketplace of each CMR platform if you are already using one, or contact us directly here, where we can give you specialist advice and set up the Demo.