Helping Hands
4 Tools for Optimal Customer Service in Real Time
With the help of customer service automation, companies can offer optimal real-time support. We show different direct communication channels that can be optimized with AI.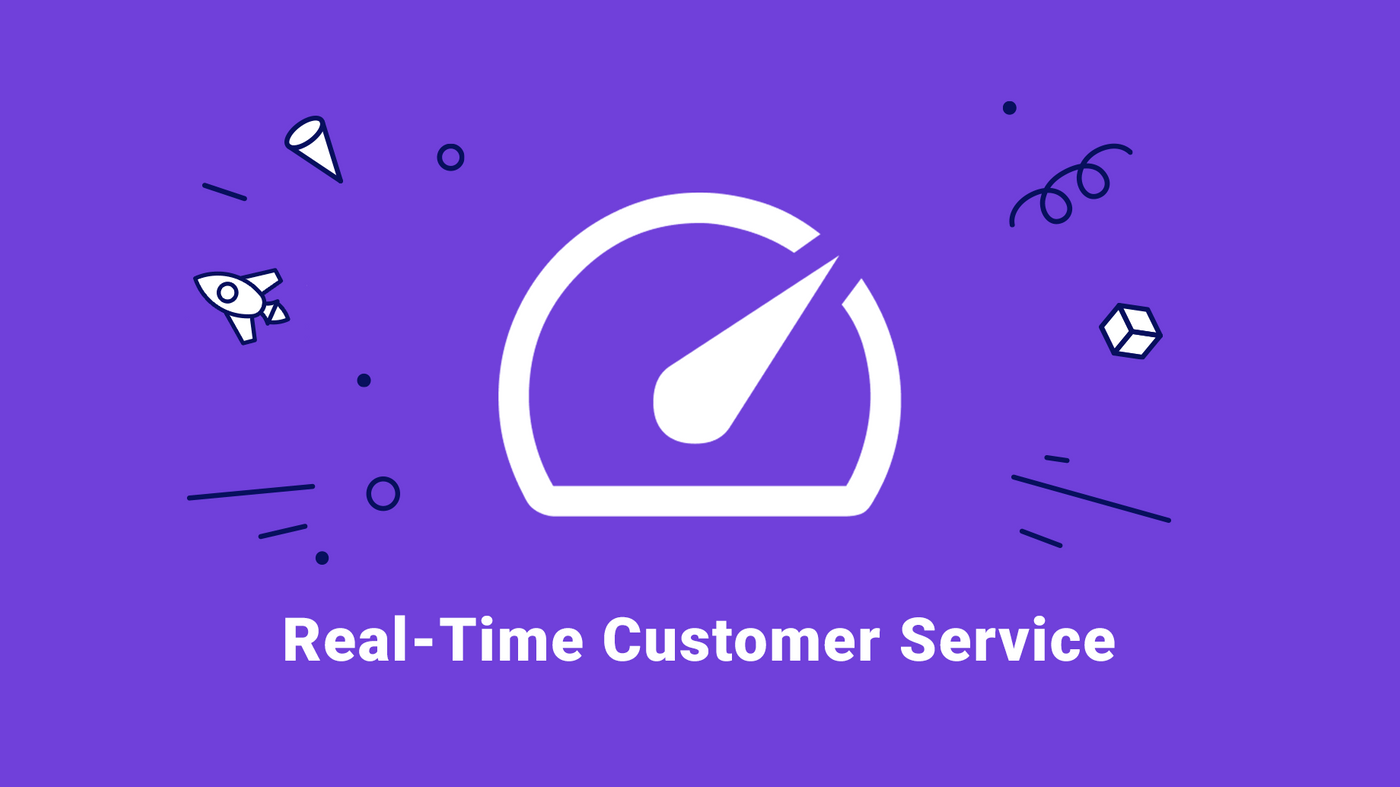 With increasing digitization, the expectations of customers also grow. Especially in customer service, you should keep up with the times and not ignore modernization, because for many customers it is now normal to receive an answer right away. However, service agents are not able to work in the service center 24/7 – so how can these expectations be met?
In this article, we show you 4 tools that promise real-time customer service and thus meet customer expectations.
Crucial to real-time service: Types of communication
1. Asynchronous communication
There are two main types of communication that occur in customer service. If the conversation takes place with a time delay, this is referred to as asynchronous communication. This includes emails in support, for example.
Advantages:
The agents' workflow is not interrupted
Questions don't have to be answered immediately → employees have more time to find out about the issue and can also ask other colleagues about it
Messages can be saved and are always available
Disadvantages:
Messages can go under and be forgotten as a result
Delayed responses from companies can annoy customers
Additional effort if data has to be saved or made visible manually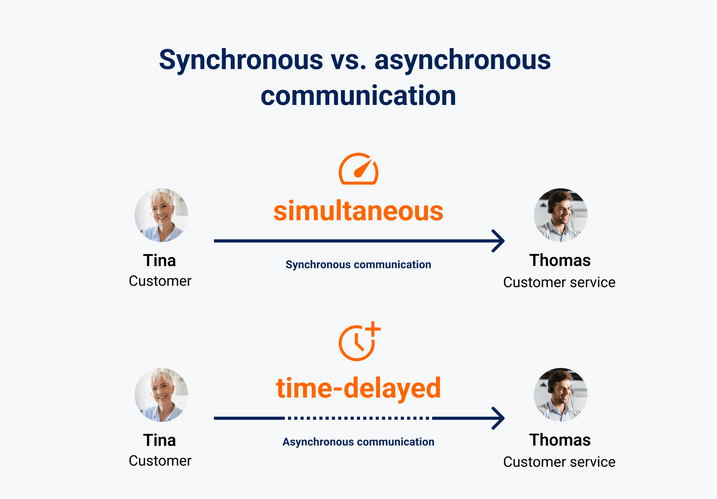 2. Synchronous communication
The type of information exchange that is most expected today is synchronous communication. As a counterpart to asynchronous communication, the aim here is to answer messages immediately. This expectation can be found, for example, when calling the call center or in a live chat.
Advantages:
Instant issue resolution, real-time responses
Messages don't get lost because they are processed directly
Customers feel well supported because there is no waiting time
Disadvantages:
can interrupt the agent's workflow
content may not be adequately documented
when the service volume is high, agents cannot keep up and customers could still be in a queue
Channels for optimal real-time customer service
In support there are both direct (synchronous) and indirect (asynchronous) channels. If these communication channels are automated, they can offer real-time customer service at any time and relieve the service staff as reliable tools. The following 4 channels are ideal for providing a service that answers inquiries immediately:beantwortet:
1. Live-Chat
In live chat on websites, customers can contact companies directly by entering their question in the text field and submitting it. Ideally, these will then be answered immediately and customers can see when an operator is online and typing. The chat allows a quick and natural communication with each other and is a direct channel of communication.
To make the live chat even more efficient, a chatbot can be integrated to automate it. Customer inquiries can then be answered either by employees or by artificial intelligence. This means that the advantages of synchronous and asynchronous communication are combined.
With a chatbot, resources are saved and the manual work of the employees can be easily minimized. However, it is important to ensure that even with a pure AI bot, the customers have the opportunity to be forwarded to employees if necessary.
AI chatbot in e-commerce
An example of a chatbot on its own website is provided by the company EMP, where more than 1/3 of customer requests are answered by the chatbot. The chatbot recognizes the intentions of the customers and can thus correctly interpret and answer various questions around the topics of sales, shipping, payment etc. "The trousers don't fit me", is thus recognized as a complaint.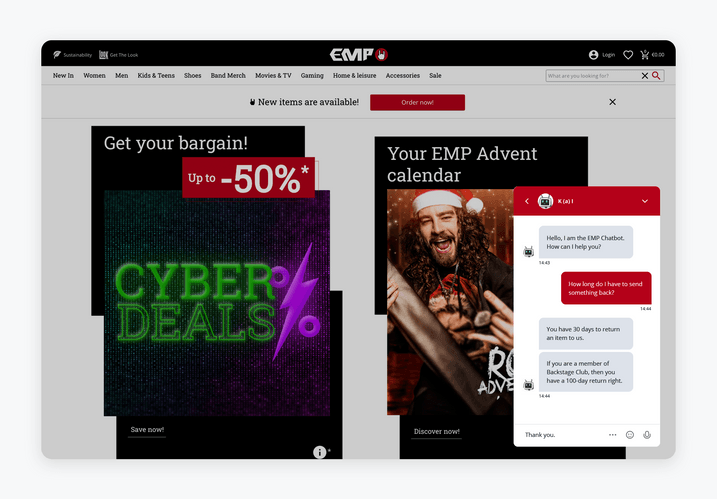 If customers still want to get in touch with employees, the OMQ Chatbot connects them with agents when they are online. In the event that the operators are not working or cannot yet answer the request, the chat is saved as a case so that the agents can answer it later.
2. Instant Messaging
A step up from the website chat is the messaging support. Customers can also contact the company on instant messaging platforms such as WhatsApp, Telegram or Facebook Messenger.
One advantage is that these messengers are a natural means of communication for most customers. WhatsApp can be found on almost every mobilel phone; many companies have a Facebook or Instagram account. If there is a direct opportunity to contact the respective company via messenger, it is a positive experience for the customers. Here, too, AI can be implemented.
With instant messaging, the communication can be either direct or indirect. It all depends on which operators are used. Here, too, a chatbot can be implemented to ensure that inquiries are answered in real time at all times.
Messenger bot at Elektro Wandelt
Messenger is the most popular customer service channel because WhatsApp, Telegram, Facebook and Co. can be used anytime and anywhere. If a question about installations spontaneously arises, it can be asked very conveniently in the messenger chat. Another important point that messenger communication offers is that chat history is saved. The customers can therefore access it again and again.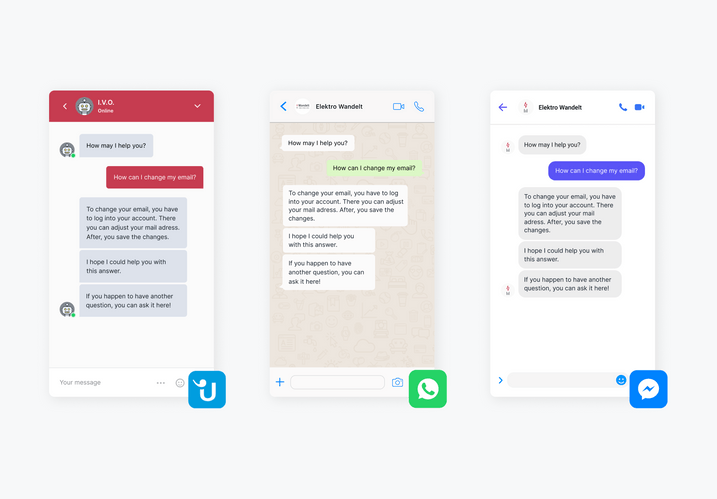 Various media can also be used to answer the questions. For example, instructions can also be shown simply with a video.
Our case study with Elektro Wandelt shows how popular these modern channels are:
We now receive more than twice our requests via WhatsApp.
Christopher Hesse, Elektro Wandelt
3. Self-Service
A simple way to ensure good customer service is self-service. Customers can search for solutions independently, which enables them to find answers quickly. One channel for this is the FAQ, in which information can be conveyed indirectly, but nevertheless immediately.. Various questions and answers are collected here, which can be accessed at will.
Through the process automation, customers are immediately directed to the correct entry via auto-completion. The arrangement of the queries according to their frequency also contributes to the fact that ideally the right entry can be found without entering a search term. Suggestions are displayed and updated in real time.
Self-service real-time FAQ at Stadtwerke Brandenburg
Stadtwerke Brandenburg offers its customers the opportunity to search for their questions on the help page. Both the clear categories and the arrangement of the questions according to their frequency of inquiries ensure that customers can easily find their way around. The search bar with auto-completion also ensures problem-free finding of a solution.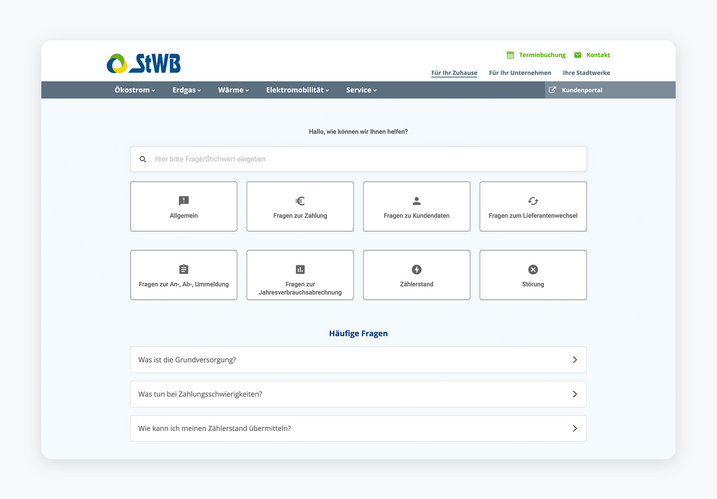 4. Internal service portal
The internal service portal is similar to an FAQ, but is designed for company employees to optimize the company's knowledge management. If necessary, the employees can find information independently via an internal database. If this possibility is given and is automated with AI, inquiries can be answered faster because the agents do not have to search for answers for a long time, but find them immediately.
Equipped with AI, the internal help page always provides up-to-date information that can be accessed and made available from any department of the company. The tool can be used to improve the information conveyed by the agents and thus ensure that this information reaches the customers faster. The internal help page therefore helps to optimize direct contact between the company and the customer. In a telephone call, for example, service employees can search for the relevant information during the call and then pass it on to the caller.
Intelligent internal help page at various companies
An automated internal help page is already being used by many companies. Among other things, Mister Spex ensures that the same information is forwarded by employees to customers on a daily basis, both in the online shop and in the pop-up stores.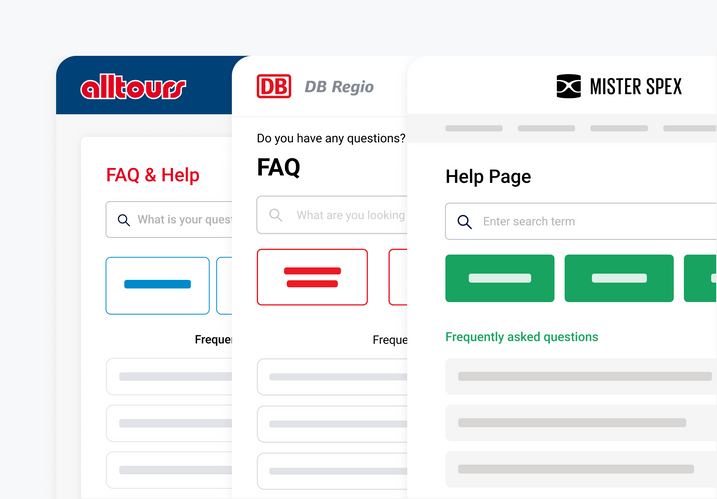 Alltours also uses the knowledge management tool to ensure a consistent flow of information both online and in presence at the various travel agencies.
Real-time support through customer service automation
Whether it's live chat, messenger chat, self-service, or backed-up support through internal help pages, real-time customer service isn't difficult. As the examples above show, companies from a wide variety of industries have already used software solutions that give their customers exactly the service they expect.
The following features are integrated with customer service automation:
Real-time: The right answers in seconds
Accessibility: 24/7 online – even without agents
Reliability: Always the right answer, no matter which channel
The integration of automating software into several communication channels can also be aimed at in order to offer an optimal service on several levels. Some customers would prefer to search for a solution independently in the FAQ, while others prefer the chat. All of these channels can be easily improved with plugins - the flow of knowledge is always the same.
Fast and easy automation with OMQ
If you also want to adapt your customer service perfectly to the expectations of your customers, you can quickly and easily schedule a demo with us. We will advise you on your use case. If you have general questions, you can simply ask us by contacting us.
What is synchronous communication?
What does asynchronous communication mean?
What are the benefits of synchronous customer service?
How can a company provide real-time customer service?
What is the benefit of chatbots?
What is the benefit of customer service automation?