Helping Hands
Tips for Internal Knowledge Management | Improve Employee Product Knowledge and Optimise Customer Service
Knowledge management is an important skill for any company, because only with the right product knowledge can optimal information transfer and thus good customer service be guaranteed.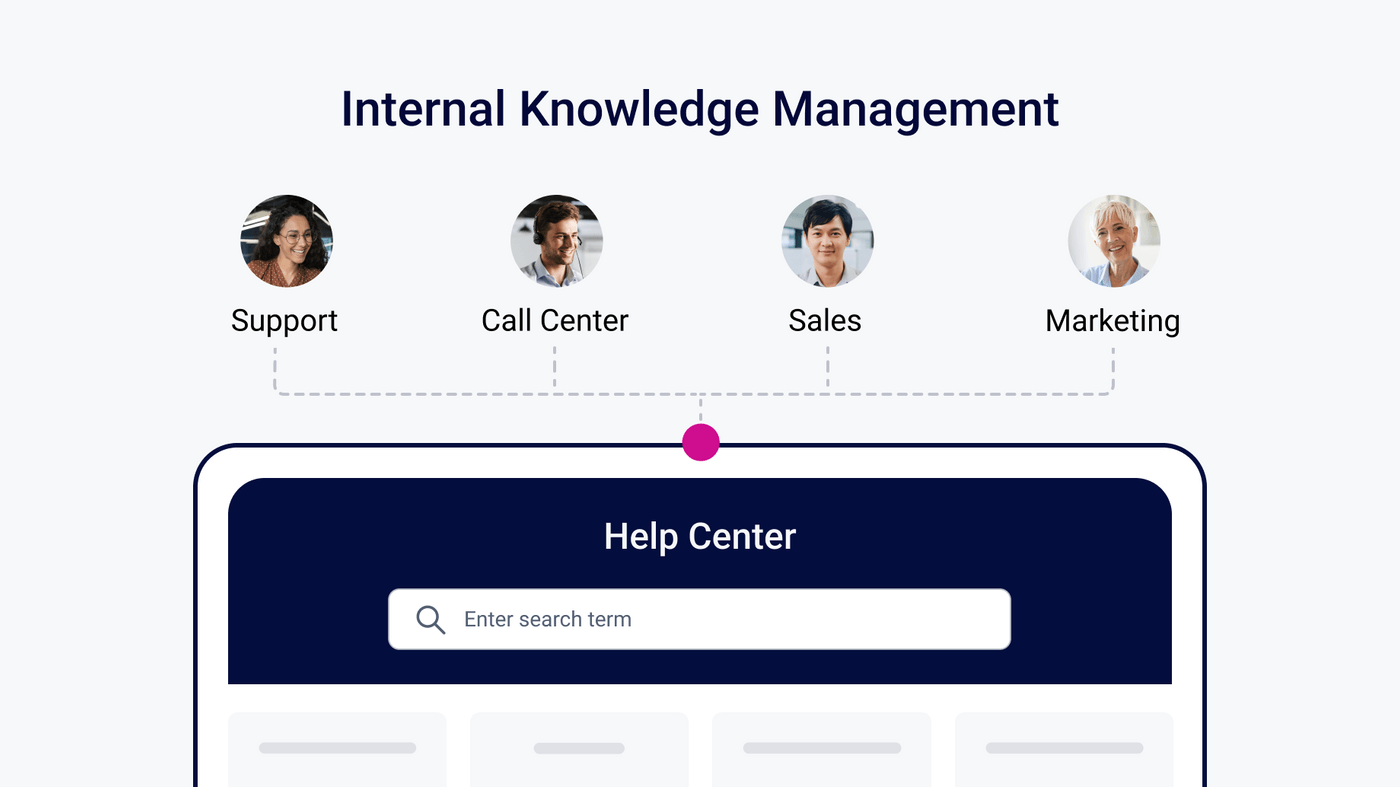 A company can only offer its customers the best customer service if the internal product and service knowledge is organised in such a way that employees can access it quickly. In many cases, up-to-date information is not properly distributed within the company, which in turn leads to incorrect answers being passed on to customers. Often customers have to wait a long time for an answer, because the agents themselves have to search for it.
As a result, customer service is perceived as dubious and customers are generally disappointed. There are methods and tools to quickly and easily distribute and organise knowledge throughout the company – we'll show them to you!
What is knowledge management and what role does it play in customer service?
In short, knowledge management is the systematic recording of internal and external knowledge. The process deals with the acquisition, development, distribution, storage and use of knowledge.
Knowledge is an important, if not the most important factor in the company, because when used correctly it helps both customers and employees. The basis for knowledge management is as follows:
Knowledge (e. g. from employees)
Data and information
Ability to solve specific tasks or problems
Companies often speak of organisational knowledge management.
Organisational learning is the process of creating, retaining, and transferring knowledge within an organisation. An organisation improves over time as it gains experience. From this experience, it is able to create knowledge. This knowledge is broad, covering any topic that could better an organisation.
Source: Wikipedia
Advantages of knowledge management for customer service
Digitisation helps to store knowledge easily and inexpensively and share it within the company. This makes it easier to make documents or records available and often eliminates the need to contact different people to get an answer. The storage of knowledge in the system enables employees to access information around the clock and from anywhere.
What's an advantage is having a central tool that allows you to control the information on the website from the service department and thus ensure that the help page always displays up-to-date answers, which are also currently being used in the call centre.
Matthias Meisdrock, CEO of OMQ
An efficient customer service can only be guaranteed when everyone in the company is familiar with all products, offers, promotions etc. However, internal knowledge management does not require you to memorise a subject, as it was in school, because here, too, the following applies: Knowledge is to know where you find information. If all employees of the company know how to find the information they are looking for quickly and easily, they can pass it on to customers just as easily. This makes customer service more efficient and reliable, as misinformation cannot be circulated in the first place.
But also internal information for employees, such as questions about vacation requests, deadlines or accounting, can be stored and controlled in a central tool.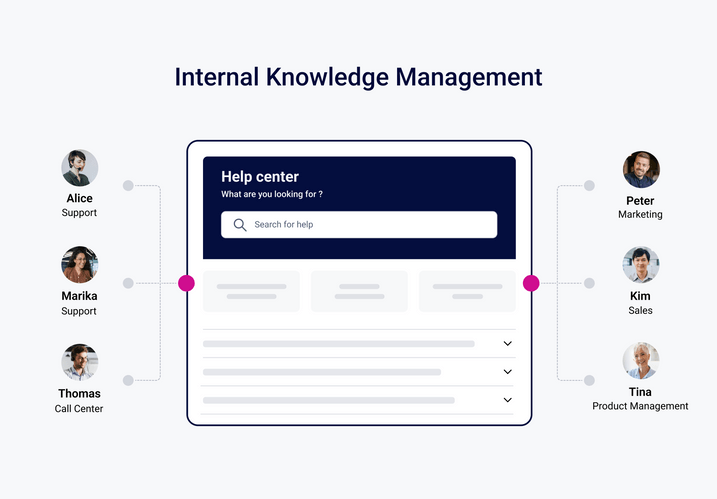 In addition, all departments of the company are linked by knowledge management. For example, if there are innovations in the product or an action of the marketing department, it is important to communicate them with the other departments, so that all employees are on the same level.
Knowledge management tools and their functions
There are several ways to advance knowledge management in customer service. With smart technologies, knowledge can be organised and presented in a better way. Important features or abilities that such a tool must master are the following:
Managing knowledge
Making knowledge findable (e. g. by search bar with auto-completion)
Communicating knowledge (e. g. as internal FAQ)
Central knowledge databases as a basis
Central knowledge databases are designed to collect and manage service knowledge. Service employees can also manage and change the data themselves at this central storage location.
The knowledge is then distributed in the different communication channels. Since this information is all from the same database, it is the same in every channel and always up-to-date. Such a knowledge database can be used internally and externally, which means that there are not many different standalone solutions that ultimately do not really help anyone, but a central system that optimises the processes.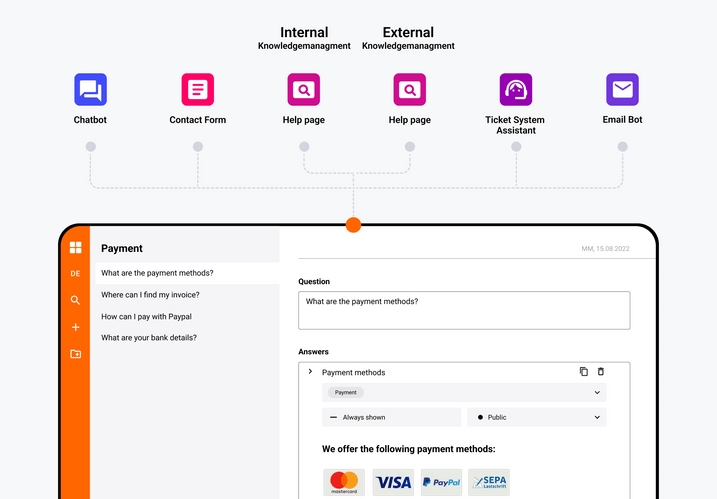 Tools such as an (internal) help page can then be linked to this central knowledge database to display the service and product knowledge and make it accessible to all employees.
Internal help page for companies
Employees often have different documents and lists they use when looking for information. Sometimes they write them down themselves. Knowledge is not uniformly bundled and can therefore vary greatly from department to department, which is a major problem because the right information often has to be searched for a long time and involves a great deal of communication. Employees also usually have to be informed about innovations and product knowledge in employee training courses or meetings, which is time-consuming and not particularly resource-saving.
An internal help page can be used to bundle the knowledge in one central location and make it accessible to all employees. The right information can be easily sent to the customer, making the answers uniform. Employees can also introduce new topics and update the data independently. Another advantage of modern help centres is that the content can be controlled by internal and external use. This means that the internal FAQ page for employees can display different questions than the help page / FAQ in the customer portal or on the customer website.
OMQ Help as a help page tool
OMQ Help is a dynamic and self-optimising help page that can be integrated externally for customers as well as internally for employees and then spread information evenly throughout the company. The intelligent help page works with AI and can therefore manage data in real time, which means that entries are sorted in real time according to the frequency of requests. In addition, the structure of the page is clear and easy to navigate with the help of categories. The tool can thus be used as a central support centre (internal and external).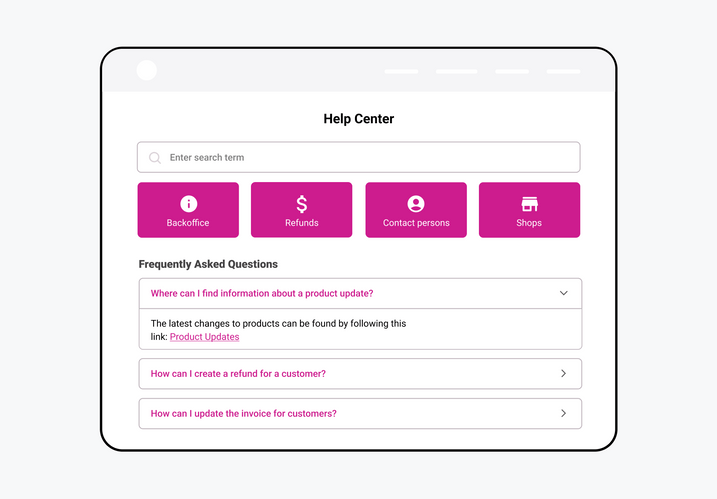 Thanks to auto-completion, the correct entries can be found in just a few seconds and the arrangement according to their frequency of requests also helps to find a solution quickly. The service staff will find the right solution immediately and will be able to respond to the customer quickly and in high quality in order to offer an ideal and fast customer service. If OMQ is used as a FAQ page for customers, they will ideally find their solutions themselves and do not need to contact customer service.
The main features of OMQ Help are
Autocompletion
Arrangement according to frequency of requests in real time
Easy navigation and clear design
can be used as an internal and external knowledge management tool
It stands to reason that all other channels should also use the same service knowledge and product knowledge. In this case, it is recommended to connect all existing communication channels (chat, contact form, ticket system and call centre, email inbox and help pages) to the central knowledge database. With the OMQ System service processes can then be optimised and automated across all channels.
Use Cases
Many of our customers (such as Mister Spex, Alltours, DB Regio or IHK 24) use OMQ Help as an internal help page to optimise knowledge management in the company and as a help page on the website to provide the right solution for our self-service customers.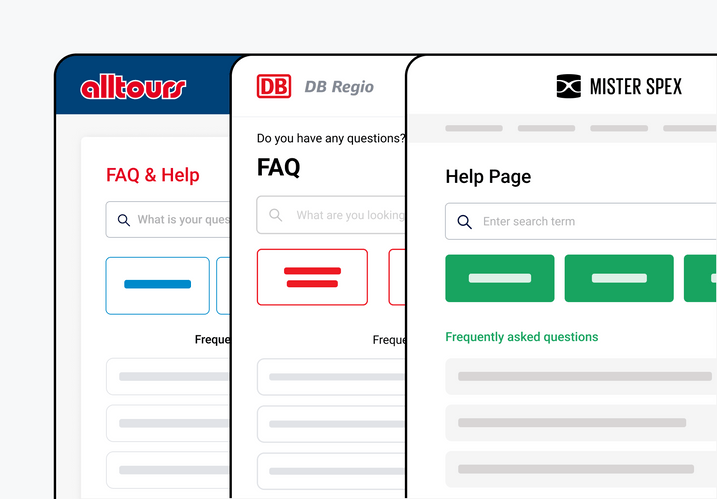 Alltours uses OMQ Help to answer customer questions. The FAQ page is about providing customers with information about check-in, travels, etc. As a company that is not only present online, it is also important for Alltours to pass uniform information on to employees at travel agencies. For this purpose, the tour operator uses the internal help page to help the employees at every agency solve recurring questions immediately. Another tool that Alltours uses in customer service is OMQ's self-responsive contact form.
Mister Spex also uses the knowledge management tool to ensure that not only in the online shop, but also in popup-stores everywhere, the same information is shared daily from employees to customers. Information that customers receive on the website is the same information that they receive from the employees on site. So if there is new product information on the website, it can also be accessed in the store. There is no discussion between employees and customers about which information is the right one. In addition, employees in the stores can also obtain internal information such as the cash register system on site, the premises or internal contact persons.
Treat yourself with OMQ!
… because our system not only helps your customers, but also you! With our tools, you can simplify and improve your customer service for both sides. In a demo we show you how we can help you. If you have any further questions, please feel free to contact us. We look forward to seeing you! :)
FAQ
What is knowledge management?
Why is product knowledge important?
What is the goal of knowledge management for companies?
Why is knowledge management so important?
What are knowledge management tools?
What tasks does knowledge management have to fulfil?
What are the benefits of knowledge management?