News
OMQ Rooftop Event 2021 - Customer service with vision
This year, our OMQ rooftop event is taking place online on 24th of March 2021 at 7 p.m. as an interactive live stream event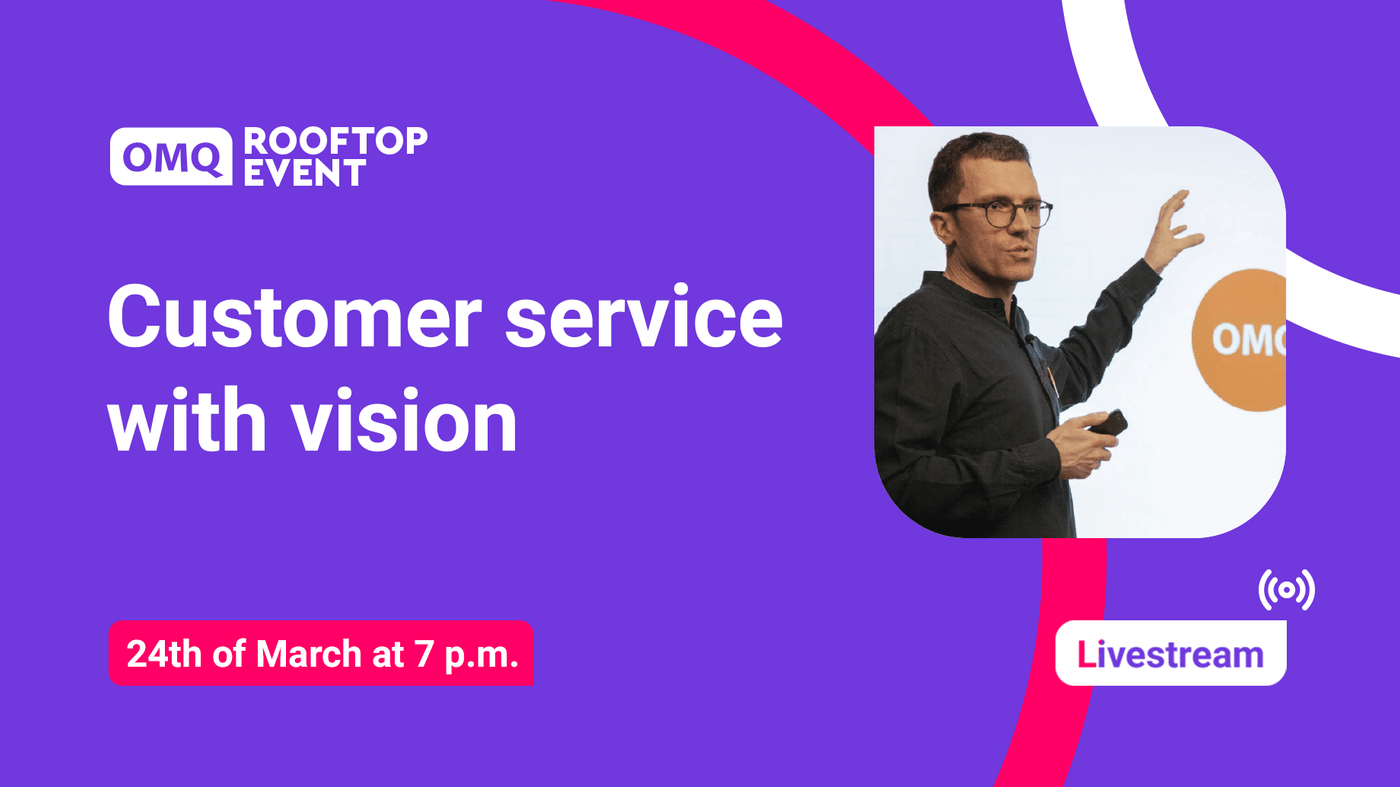 A year has passed since our last OMQ Rooftop Event and a lot has happened since then. We would like to thank one more time our guests from last year for the wonderful evening. This March we also want to share our knowledge about the current customer service trends with you. This year the OMQ rooftop event goes by the motto "stay home and stay tuned".
What does that mean? Our OMQ rooftop event is taking place online as an interactive live stream event.
When? On 24th of March 2021 at 7 p.m. CET.
What is the future of customer service?
Just as last year, this year we also want to share ideas with you about the current customer service trends. The event is a great platform to make new contacts and meet experts from different fields of customer service, call centers, e-commerce and many other industries. We will talk about AI-based service tools and chatbots in customer service, how to generate better customer ratings and how to effectively increase the quality of service.
Interactive live stream - online networking for everyone
We of course took care of the perfect live experience. You can be part of the live stream from home - with seats in the first row.
All participants can meet and exchange ideas online during and after the event via the platform airmeet.com - just in line with the OMQ Rooftop Event. You can choose whether you want to switch on with the webcam or join in without video transmission.
Event Schedule
At the interactive livestream event, we focus primarily on networking, so that all participants can exchange ideas online and actively contribute. It is important to take into account that the event is intended for a German-speaking audience and therefore, will be in German language.
19:00
Welcome speech by our CEO's
19:15
Customer service trends 2021
Lecture by Matthias Meisdrock
19:30
Use Case - ETH Zürich
Interview with Sven Engelmann and Mark Buschor
19:45
Panel discussion
With Lars Schulze, Dominik Stiefermann, Matthias Meisdrock and Sven Engelmann
20:00
Get-Together und Networking
Review: The Rooftop Event 2020
Last year we invited you to our OMQ Rooftop Event in the Treptowers for the second time. Immediately after the CCW, we listened to lectures about customer service automation, interviews and expert opinions with you and shared ideas.
We welcomed our partner Userlike and our customer persona service under the motto "Customer service with a vision". We conducted exciting interviews with Tim Berghoff and Melanie Schulze and thus found out more about customer service in the B2B area and about changes in customer dialog through chat systems. In addition, our CEO Matthias Meisdrock spoke about customer service automation.
If you want to find out more about us and our OMQ Rooftop Event, you can contact us here.
We are looking forward to getting in contact with you!