Helping Hands
Email Bot - How to Answer Customer Service Emails Automatically
Our AI Email Bot automatically answers customer emails with Artificial Intelligence and reduces service requests in the email customer service.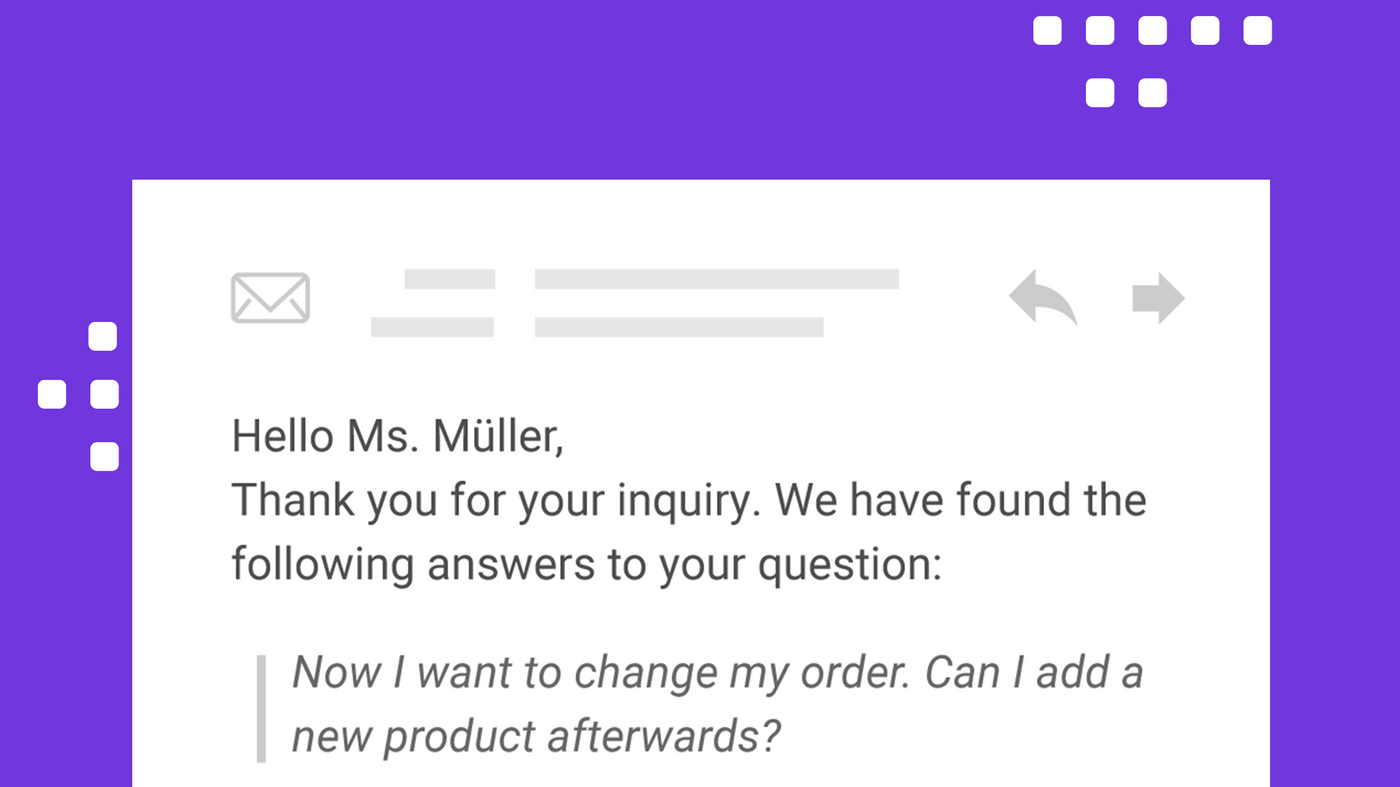 A company that offers various service channels for its customer service is in principle well positioned. However, it is a great challenge to occupy all channels simultaneously and to provide quick responses.
A channel that requires special attention as well as time and manual labor is the email inbox. The mailbox is full because, more often than not, customers' requests keep coming in– and, although most of these requests are standard questions and are easy to answer, they usually cannot be answered in a timely manner. And not only that: the service staff is also overwhelmed by the amount of requests.
Especially in the age of digitalization, the success of a company stands and falls with good customer service. In this article, we'll show you how to improve your company's customer service with our Email Bot OMQ Reply and automatically reply to emails.
Automatic answers in the e-mail customer service
​ A big challenge in customer service is increased service volume, as service agents often can't keep up with answering tickets. Automatic answers are an obvious solution to this situation.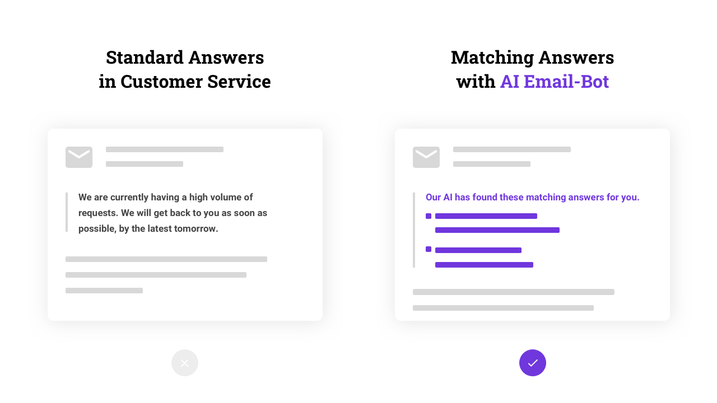 But instead of sending an automatic reply to the customer, which simply says that you will get back to them in three days, the best way is to solve the request right away. Email bots or mail bots can do exactly that: Answer questions directly and without interference from employees. In the following we show what challenges there are in e-mail customer service and how to solve them with the help of e-mail software. ​
The challenges of the email inbox as a service channel
​ The e-mail is still one of the most popular channels among customers to establish contact with a company - not only in e-commerce, but in any industry. However, there is usually a problem that should not be underestimated: E-mail requests are often answered too late because they require a lot of manual work. Customers who have to wait a long time for an answer become angry and do not feel like supporting the company any further, sometimes even switching to the competitors. Another problem is that unsatisfied customers leave bad online reviews, which can discourage other potential customers and negatively impact sales.
Customers' ever-increasing demands to the company and its customer service also increase the pressure for service agents. They have to answer those requests as fast as they can. Additionally, they have to deal with dissatisfied customers and their complaints, which takes up time and as a result, agents do not have time to solve those unique and complex cases. ​
More Agents = Less unread emails, right?
​ The most logical and practical solution to those challenges is to increase the size of your customer service team. However, this might not be the most efficient resource wise because the budget that is required to hire more employees might not be immediately available. Even if it were, there is also the challenge of finding qualified employees that already have outstanding customer service skills. So there must be another way to answer requests in the email inbox fast and efficiently. That's where OMQ comes in.
Increasing the size of the service team is not the right approach, as it consumes resources and does not improve the problem. Automating the e-mail should be the goal.
Email Bot - How to automate your Emails for Customer Service
To face these challenges, we developed our product OMQ Reply. With the Email Bot OMQ Reply you can answer those email requests automatically, without the need of an agent getting involved. This way, your customers get the answers to their questions immediately and do not have a long waiting time.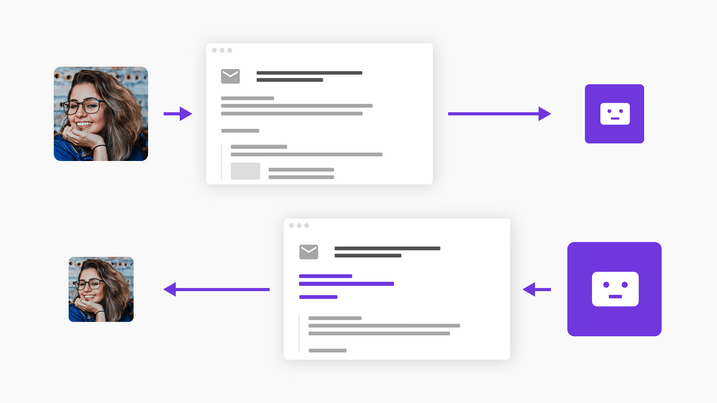 Email Software for Customer Service: OMQ Reply
​ OMQ Reply can be integrated fast and easily as a plugin in your ticket system. Through our AI, OMQ Reply automatically detects customer requests, understands the intention behind them and finally answers them independently. Even if there are several queries in an email, each question can be answered individually. The software highlights the solution in the answer text in color and eventually saves the request as a ticket.
After that, the e-mail inbox contains only difficult and individual cases, because standard requests are dropped! A win-win situation for employees and clients, because everyone gets help. The stress of having to answer every request immediately is eliminated. Clients still get a direct answer. Satisfied customers leave good reviews, which will attract new buyers and put the company in a good light. ​
The benefits of OMQ Reply for email customer service at a glance
​ By responding quickly and efficiently to queries with OMQ Reply, customers get an immediate response, while agents can focus on complex customer service issues. The virtual employee analyzes e-mails that arrive in the system and answers them when they are sure they have found the right answer. ​ The benefits of OMQ Reply in a nutshell: ​
Automatic reply to emails
in case of several questions in an email, each one is answered individually
solution is highlighted in the reply text
solved requests are saved as tickets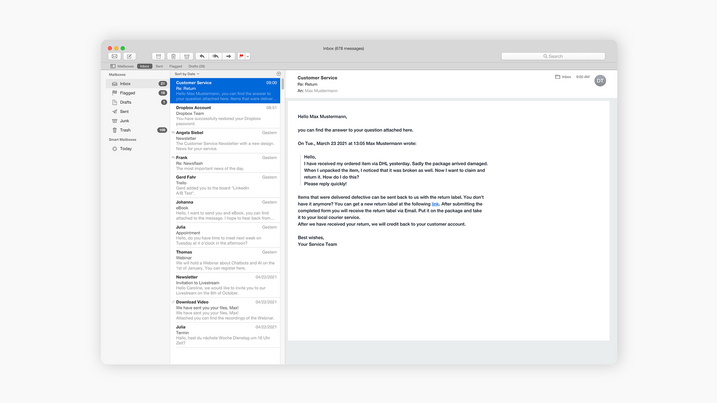 Email Bot for any industry
​ OMQ Reply can be used in any industry. All that is needed is a mailbox, which can hardly save itself from inquiries. This means that OMQ Reply is of course also available in industries such as… ​
Industry
Transportation
Software
Insurance
Tourism
Public institutions and education
The email bot helps to analyze and respond to emails in every industry and thus significantly increases customer satisfaction.
Use Case for Public Institutions
​ Public institutions such as universities have to answer a large number of email enquiries. During lecture free periods, usually there are no consultation hours, and most tasks and questions have to be answered online. And during exam periods or at times when many applications have to be submitted, the emails in the mailbox of the internal offices also accumulate and it can take a long time for students to receive a reply.
OMQ Reply can filter out standard queries and answer them independently, theoretically leaving the employees with cases in which the students actually need human help. This would help both parties very easily. ​
Increase of service requests due to growth in online retail
​ Another use-case, or another example, is the addition of online commerce. Recent studies by the Federal Association of E-Commerce and Mail Order Business of Germany show that e-commerce is experiencing a sharp increase. Conversely, this also means an additional burden for customer service. Here are some facts and figures: ​
In the first semester of 2021 online retail increased by 23,2%
Despite the stores reopening, the growth trend in the industry is steady
Approximately one out of every four euros was spent online around Christmas
Automation of all service channels
Not only the automated e-mail channel is able to relieve the service agents in the event of increased service volumes. There are also other channels that automatically answer customer requests. Our central OMQ knowledge database stores all service knowledge and distributes it to all channels. All OMQ products are linked to this central knowledge database and therefore have the same knowledge.
This makes it possible to offer both an automated contact form and a self-service help page which improve customer service. We also offer our OMQ Chatbot which can be integrated into live chat systems and messenger services. In addition to our e-mail bot for the e-mail inbox, we also offer a Assistance Bot for ticket systems, with which service agents can compile reply emails with simple clicks.
…But that's not all!
​ In addition to OMQ Reply, we offer solutions for various service channels. Our products help provide the best customer service to support both customers and businesses. If you want to know more about us or our products, please contact us here or send us a demo request – we look forward to seeing you! :) ​
FAQ
What is an e-mail bot?
What is the use of the Email bot?
How does email customer service work?
Which email bot is the right one?