Scary New World
Knocked out by AI - Duel in Customer Service
Properly prepare your service employees for automation and artificial intelligence to achieve the best customer service.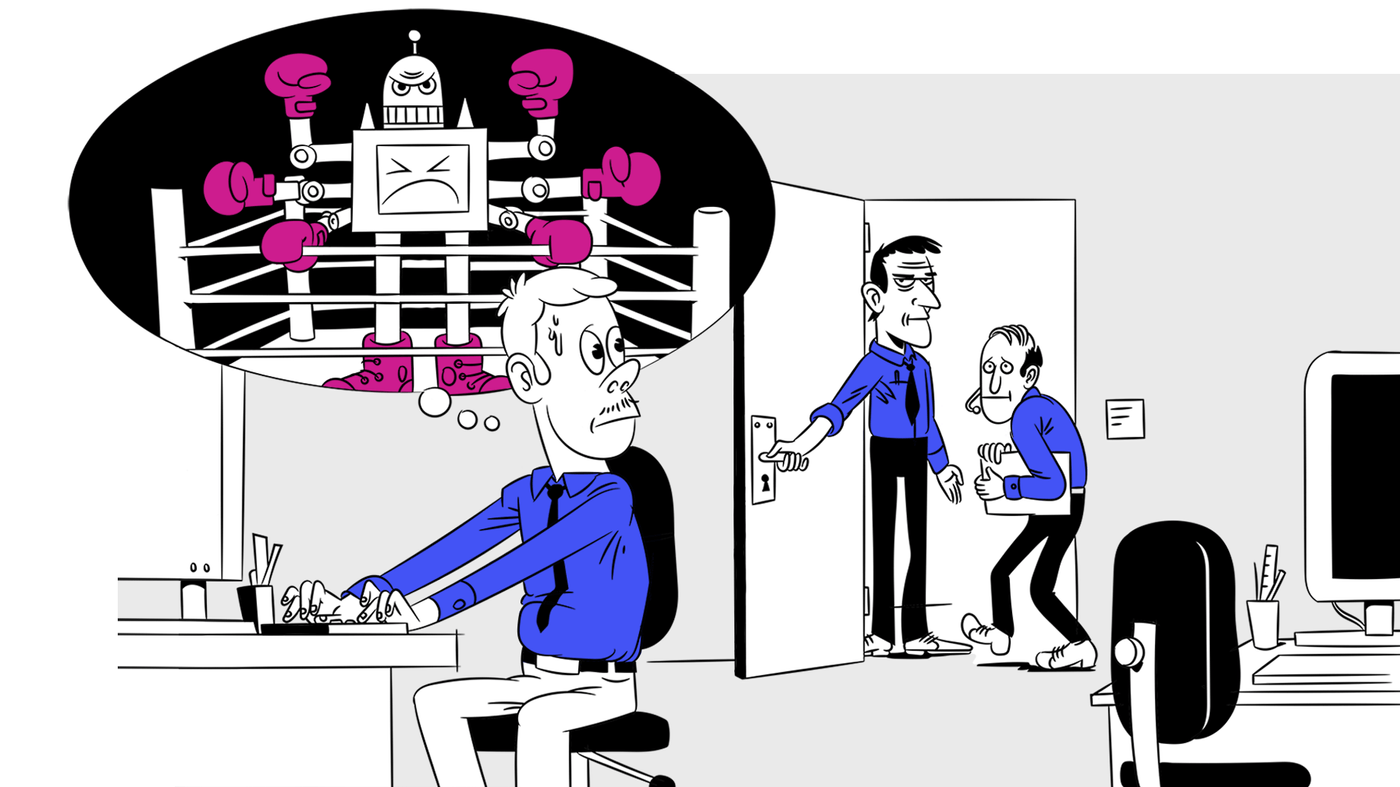 Unbelievable, thinking back to how we were told about AI in the beginning. Our bosses raved about it, and told us what an enrichment it would be for us. They said that the AI would be implemented in our favor – Ha! And now all our biggest fears have come true and our job is slowly losing its raison d'être. Our bosses are calling us into their office one by one and we have to fight the AI! Now all we can do is watch how the robot takes over all our tasks and slowly but surely eliminates the last service employee…
Every morning I wake up and fear that I'm going to lose my job. I am a very good service agent and the clients I communicate with are always very satisfied with me. Nevertheless, I have to be afraid of being called upon to "duel" by the executive. I may be good at dealing with customers, but the AI is better and has beaten every one of us so far. Whenever colleagues are called to a duel, they lose and are fired - well – they rather disappear without a trace. It's almost as if our bosses are trying to make fools of us. I keep thinking about it and thinking about what will happen when the last agents are defeated.
This morning I woke up, had breakfast and then went to work – now I'm sitting at my desk and the whole office is empty. It's creepy. It's too quiet. And suddenly the door opens and my worst nightmare comes true: "We'll see you in our office in ten minutes." My day has come. I can't escape my fate anymore – it's time. Anyway, I've been racking my head every day and night about what it feels like to be called in. Now it's happened and suddenly my heart races. Before I get up, I think about my boss: I want to make a clear statement later, my job is gone anyway. So I collect all my thoughts and then start preparing.
With trembling legs I walk to the door and open it. The room is empty, but there is a tablet on the table. "Sit down, don't be shy", says my boss as he enters the room. I pull the chair back a little and sit down. The tablet shows new requests every second and I can hardly focus on one question. A few minutes later, the door opens and my opponent walks in. It's a robot. To be precise, our AI. It takes a seat opposite me and gets a tablet laid down as well. Our duel is about to start. Thousands of thoughts rage in my head, a confrontation with my boss seems to have suddenly become a long way off. My focus is completely on the requests, because… maybe I can beat the AI after all?
Everything's happening in slow motion. While I'm dealing with a request, the AI has already answered at least fifty at a time. It also has many arms, doing all sorts of tasks at the same time. Much faster and more efficient than I could ever be. The bot knows about everything and nothing can distress it. I can't say that about myself. On my tablet, I can see the requests gradually disappear, but they are not processed by me, but by my opponent. The AI even handles requests with spelling mistakes and bad grammar, which I sometimes can't even interpret properly. I'm starting to get a headache. The AI is superior to me, because it can solve several queries at once and only takes a few seconds per question.
My concentration is falling more and more, I can hardly focus on one request. More and more requests disappear from the display and are handled by the bot. Seeing how fast he's working on it is almost worse than knowing that this is probably my last working day at my company… I've completely suppressed that too! Now the thoughts are back in my head and give me even more headaches and stress. And the bot works and works, it does not have to deal with feelings … it's a machine that is fully focused on its work: Without distraction and with full precision…
… But suddenly there seem to be problems on the bot's part as well. It's sitting in front of the tablet now and doesn't quite seem to know how to react. I quickly read through the queries to find the one that must be giving the AI problems. The question that gets the bot stuck is one that is different from the other queries because it describes an individual problem, but is basically very easy. Apparently the bot can't interpret the sentences and is therefore stuck. It doesn't know about this problem yet. I take it over and solve it within a few seconds. Now the bot looks up and I smile at him. Our duel continues, but I decide to take care of the requests that are giving the bot trouble. This is not a duel - we complement each other!
Now I am totally relaxed and no longer feel threatened, because everything works great. While the bot continuously answers all easy and recurring requests, I take care of the difficult cases. As a result, our service generally works much better than before! The heat that drove the sweat into my face a few minutes ago seems to have blown away. I'm not scared anymore.
After a while my boss says: "That's enough, we've seen enough" and pats me on the shoulder. "And who's the winner?" I ask confusedly. "Winner?" My boss is perplexed. "Yes, am I going to be fired or not?", I continue to ask. "Termination? How did you come up with such a thing?" he asks now in surprise. "Whenever my colleagues are asked to join them, they disappear afterwards. The office is completely empty. It's obvious you're testing us." I say and he starts laughing. I frown, what does he find so funny? "We test you, yes – but not to terminate you. We want to see how well our employees can work with AI. If it doesn't work out so well, we know what the problem is and then we can work together to solve these problems." …Ahh! But somehow that doesn't explain where my colleagues have gone… My boss seems to notice my still questioning look and says: "And as you know, we now have a new office building, with modern furnishings and several bots. In the near future, we want to house all our departments there, including yours."
The new office building! Of course! I had totally forgotten that in my anxiety and excitement. I feel a stone falling from my heart. My colleagues - they just moved into the new office and work from there! The burden and stress that I have built up over the past few weeks have vanished into thin air. Finally, I can relax and no longer have to think about AI replacing me.
"AI can solve many queries quickly, but it cannot replace human interaction with each other. We would never replace our service staff with bots", says my boss with a smile. "But we've actually noticed that it might be useful to place you in other areas as well, rather than just customer service", he adds. I know what he's talking about. Now I can finally look into other departments and have time to learn new skills. That would not have been possible before, since I was always busy answering questions. Now our customer service is relieved and we can work in other departments as well.
Finally calm, I walk out of the office and let the words my boss said to me a few minutes ago go through my mind: AI can solve many queries quickly, but it cannot replace human interaction… He's right. Optimal customer service is a mix of service employees and AI. AI takes care of recurring standard requests, of which it can even solve several at once, and we take care of more difficult cases. It's helped us all. Our service does not falter and we are less stressed! …at least after the clarification of the big misunderstanding…:)
OMQ and AI for your company
Preparing a team for AI can be quite difficult. The fear of being replaced is often reinforced by horror movies and stories through the media. We've got 5 tips on how to prepare your team for AI so you don't scare your employees like the management of our story.
As our story shows, you don't have to worry about customer service automation. This often opens up other doors with new, exciting tasks in the company. We offer this support for your customer service. With OMQ Assist your agent can solve customer queries with just one click. When opening the e-mail, the software reads it and then immediately suggests the appropriate solution and a reply is compiled by a simple click. Another step towards complete automation would be our product OMQ Reply, which reads e-mails independently and responds immediately when it is sure to have a solution. This means that agents have more time to deal with individual cases or even to be deployed in other departments.
Relief from the AI chatbot
Our OMQ Chatbot also takes care of answering standard queries. It can be used both in website chat as well as on various messenger platforms such as Facebook Messenger, WhatsApp or Telegram where it can communicate directly with customers. If a request cannot be answered by the chatbot because it is too individual, or if the customer prefers to speak with a human component, the OMQ chatbot can connect them directly to employees.
Automation of contact forms and help pages
In addition to these direct channels, we also offer plugins for contact forms and help pages. The use of OMQ Contact ensures that tickets are not created in the first place. The AI understands the customer's concerns: and immediately suggests appropriate answers. OMQ Help is a self-searching help page similar to an FAQ. Through our AI, it reacts to current changes in customer behavior, the order of the displayed solutions depends on the current frequency of requests. With these tools, some requests are filtered out directly and service agents are able to focus on more substantial, more difficult cases.
All right…
… or do you have any questions? We at OMQ are happy to help you with customer service automation, chatbots or our products. Just contact us here or schedule a demo with us. We are looking forward to seeing you! :)