Deutsche Online Medien: Also trendsetter in service with support software
Just as their motto: Capture your beautiful moments - Thanks to OMQ, DOM Myphotobook and fotokasten are able to stand out with high-quality products and outstanding services.
Overview
Industry: Ecommerce
Customer since: June 2015
Region: Europe
Employees: 1863
Sales: 220 millionen
Summary:
d|o|m Deutsche Online Medien is a full-service provider in the field photo service and customisable photo products. fotokasten GmbH and myphotobook GmbH are their most popular subsidiaries in Germany
The complete OMQ system in use
Deutsche Online Medien is a provider of high-quality photo products and belongs to the internationally active Elanders Group. There are currently around 80 employees at the Berlin and Stuttgart locations.
In addition to the new technology for the photo products, Deutsche Online Medien also wants to improve the quality of customer service by using the latest technologies. To achieve this goal, they opted for OMQ's intelligent systems. The products OMQ Contact and OMQ Help are used. OMQ Contact extends existing contact forms of the online shops, myphotobook and photo box. OMQ Help is also integrated on the website and resembles a FAQ, which provides questions and answers to the end customer.
OMQ Results
Customer experience also seasonal
Uniform customer service in 12 European countries
Automation of support processes
Cost reduction of employee training courses
For more than a year Deutsche Online Medien GmbH has been working with the OMQ knowledge base management. The implementation consists of three development steps. In the first step, the OMQ Contact was introduced on the contact page of fotokasten and myphotobook. This makes it possible that customers receive suitable answers automatically and in real time. In the following, the OMQ Assist was integrated to ticket system already in use. With this integration, the service employees receive appropriate text modules for incoming e-mails.
With the OMQ Help, used as dynamic FAQ, all relevant questions and answers can be displayed in the help section. Display and order of the FAQs are calculated based on a special probability theory. At the end of the last phase the Deutsche Online Medien GmbH uses a holistic approach for optimised customer support. The whole administration of questions and answers is done from the easy to use OMQ knowledge base.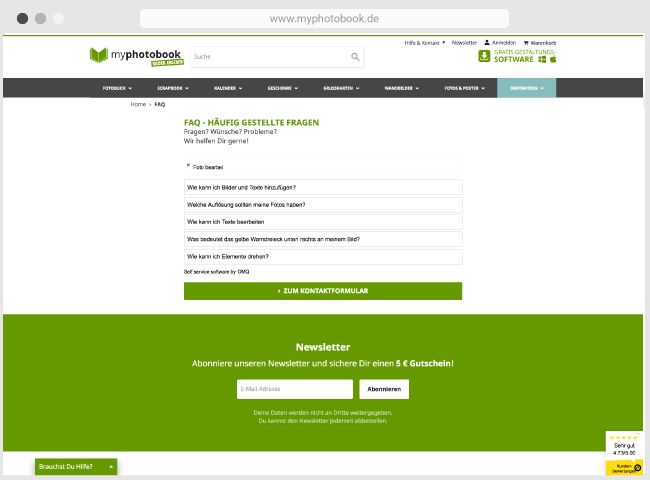 Success
OMQ knowledge base is a central collection of information and is able to do the overall control in real time for all brands. Changes only have to be entered into the system once. Afterwards, they are available to all communication channels. In particular during the Christmas season it makes sense to use intelligent systems, since an enormous number of recurrent customer requests has to be answered in a very short time.
We are still working and keeping our level high, when others already go on Christmas holidays. OMQ's knowledge base is an elementary building block for the quality of our service.
Free trial version
With only little effort you can reduce your service volume by half.
14-day trial

Simple setup

Can be cancelled at any time