Klingel Gruppe: Customer is king, Online shoppers enjoy service world
Klingel Group added AI technology to their online shops and employees.
Overview
Industry: Mail order
Customer since: September 2014
Region: Europe
Employee: over 2,500
Sales: EUR 760 million
Summary:
The Klingel-Group is Germany's third biggest mail order company based in Pforzheim.
OMQ Contact in use
Klingel, then Robert Klingel, has been selling merchandise since 1923. The small textile shop has developed into one of the largest fashion mail order companies in Europe. The Klingel Group is represented in 12 different countries and ships in a five-digit range package volume every day.
Besides the master brands KLiNGEL.de, WENZ.de and HAPPYSIZE.de, which have been provided with OMQ self service for a few months, all additional online shops of the family business benefit from the innovative self service solution of OMQ in the course of the year. With over 50 online shops and numerous branch offices throughout Europe, the Klingel Group is one of Germany's leading companies in e-commerce and mail order. As OMQ self service currently supports 32 different languages, the system can be used in all country markets of the business group without exception.
The intelligent and self-learning knowledge base enables an auto-answer of service requests. In this way, the customers are provided with a comfortable alternative to the direct approach of the customer service. Already during the input of service requests, the system offers suitable proposed solutions and information in real time to proactively support the customers in answering their requests. Before OMQ self service could be introduced, a comprehensive and unique situation analysis was carried out by OMQ. On the basis of this, a new, improved presentation concept of the contact page of the numerous online shops could be developed. With OMQ self service, a modern and user-friendly solution is available to the business group. This solution contributes to a sustainable efficiency and quality increase in the service support.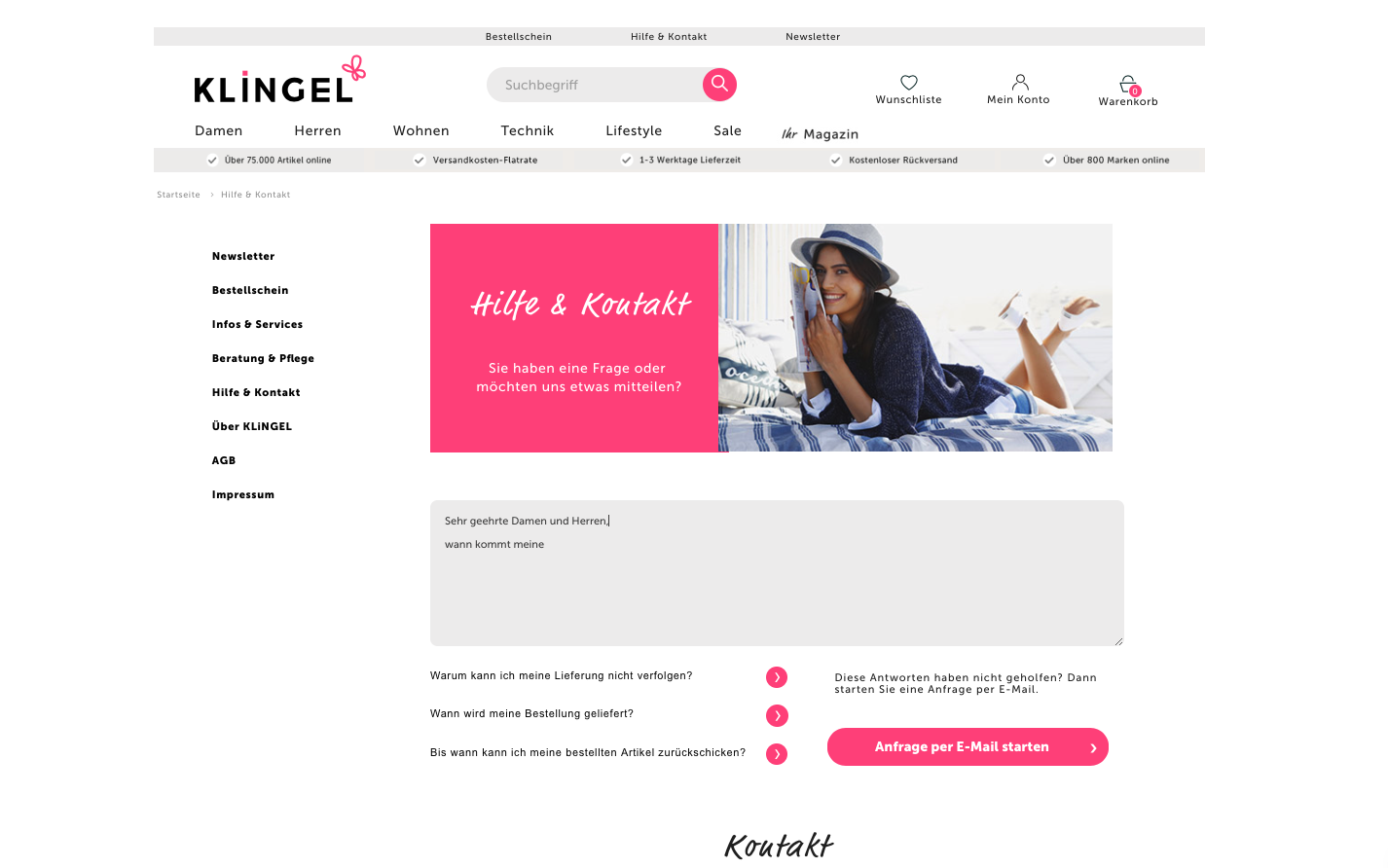 Further development
Every year, the Klingel Group is constantly working on improving its customer expierence. One part is also to offer the best customer centric. There are many possibilities to process customer requests in a company. The Klingel Gruppe has been developing their own ticket system. Due to the individuality and of the cross-interface system, Klingel decided to use a complete in-house development. The OMQ products have convinced us with their previous performance and are so flexible that they can also be integrate in complex third-party systems. Once again, the Klingel Group decided to use a product from OMQ: OMQ Assist. OMQ Assist helps all employees to answer tickets quickly and with consistent quality.
In addition to the 32 languages, OMQ provides Klingel with a modern solution that contributes significantly to the sustained increase in efficiency and quality of service.
Free trial version
With only little effort you can reduce your service volume by half.
14-day trial

Simple setup

Can be cancelled at any time