Professional Voices
Chatbots and AI - How much science fiction is in our everyday life?
Sven Engelmann von OMQ in an interview about chatbots and artificial intelligence in our every day life at the podcast Springender Punkt of WBS Akademie.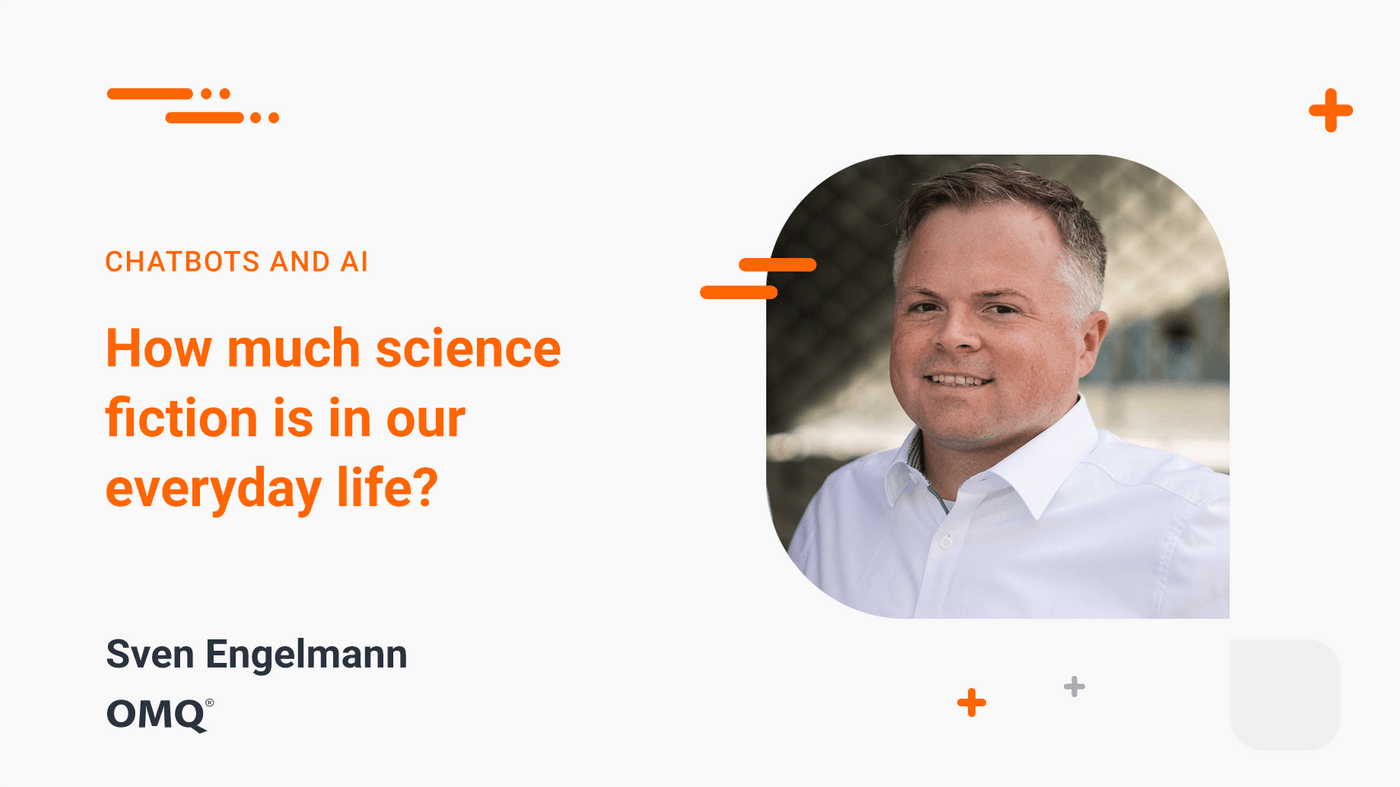 Our CEO Sven Engelmann was a guest at WBS Akademie on the 14th of November at the podcast "Springender Punkt". Helena Stelzer and Lottie Cobler interviewed Sven about artificial intelligence in our everyday life. We were very happy to have been invited to the podcast series on digitalization, new work and knowledge trends.
Robots and artificial intelligence are more reality than fiction in the daily life and have become indispensable. There are chatbots instead of call center agents and algorithms that are used instead of long mail traffic. An answering contact form, a dynamic FAQ, a self-answering e-mail system, a supporting ticket system and a helping Chatbot have been part for a long time of OMQ's order of business. Nevertheless, Sven was not a hologram, but was rather a classic guest in the recording studio.
OMQ saves customers time and effort. Do you remember when you first came into contact with AI?
Many of us first came into contact with artificial intelligence more than 20 years ago. A very well-known example took place in 1996 when world chess champion Kasparow was beaten by an AI. The matter was all over the media at the time and was heavily hyped. The problem was that the complete infrastructure was not available at that moment. In other words: The computing power, robust systems and the biggest point data were just missing. At that time, the data was only available in analog form and was difficult to digitize.
After that, only 4 to 5 years ago there was another big step in AI evolution. In the very complicated board game "Go", players were defeated by Artificial Intelligence. Machine learning needs a lot of data that wasn't available before digitalization. With the advances we have nowadays, Artificial Intelligence can be trained in ways that weren't possible before and its development can take bigger steps further.
What encouraged you to do so: "I am now starting my own company that deals with this very issue?"
OMQ was created by our CEO Matthias Meisdrock, who worked on a project in a company more than 10 years ago and was given a desk there. It was right next to the customer service and during the breaks he often talked to the customer service staff. They were very annoyed because they had to answer the same questions every day. At that time there was no system that could make their work easier. And so Matthias came up with the idea of automatically answering service inquiries with the help of Artificial Intelligence - that was the spark that conceived OMQ.
It is very exciting and very solution-oriented that the colleague took the initiative. You work a lot with Chatbots. How would you explain in simple words to someone, like for example, to my mom, our loyal listener, what a chatbot is. What should people understand by it?
We also have to take another look further back on the subject of Chatbots. A big icon for the Chatbot or the subject of avatars was the colleague "Anna" from IKEA. The problem at the time was that the idea of the avatars was good, but the technical implementation was not yet completely achievable. At least it didn't work to the extent that people had imagined. However, within the last 4 to 5 years, the subject of chat has been trending again. The idea was to relieve other communication channels. Yet the problem was that the other communication channels weren't relieved, but rather a new channel was opened. This also addressed new customers who would not have contacted the company otherwise. At the same time, there aren't that many people around to attend to the chat, and removing the chatbot from the website is not an option.
That's why the chat now runs automatically with intelligent systems. The customer is satisfied when the chatbot can respond to simple, recurring inquiries. For more elaborated inquiries that couldn't be answered, employees are usually connected. Certain topics should not be answered by the machine.
What other products are there outside of chatbot technology? In what other services can AI be used for?
Combining Artificial Intelligence with customer service is the hype topic right now. The Chatbot is omnipresent. We see it a little more globally. With the help of intelligent systems, all communication channels can be backed. In addition to the chat, the upstream virtual agent, there are also others such as:
Customers receive their answer much faster and do not have to search for a long time, nor wait 3 days for the answer. This means, customer satisfaction increases and the level of frustration drops.
Our AI explained using a customer example of an optical shop: A customer has the problem that the nose pad of their glasses has broken. However, the customer does not know the word "nose pad" and tries to describe their problem.
For example, they write: "The rubber pad of my glasses has fallen off."
Our system has learned the words "rubber pad" through interactions with the customer, which is not yet in the database. The AI tried to classify the word and was able to identify through certain mechanisms that it must be another word for "spare part" or "nose pad". The question from the customer can then be interpreted. When the customer goes to the website and type in their question, they receive information about how to get a spare part and at the same time how to complain about the glasses. The customer's intention is thus identified.
To put it simply, artificial intelligence is a system that automatically recognizes a pattern from various examples. It is a complex system that learns new words and topics flexibly and can interpret them - For example, if the "rubber pad" in Prenzlauer Berg is no longer the trend, but a bracket that connects both nasal gums, the system must be flexible enough and understand that it is no longer about the "nose pad" that the customer is asking for. Communication has changed because the customer suddenly wants something completely different, which has nothing to do with the spare part.
How quickly does the chatbot learn?
Our chatbot learns through several service channels. It is inconvenient if a chatbot only learns through one channel, since all communication channels are important.
Our philosophy: We learn and answer through all communication channels.
If the customer enters a lot of text in the contact form, there is a lot of information that can be used. In contrast, there is less and less information in the chat, the learning input is very low. For this reason, there are often problems introducing other chatbots because the learning data is too low, and the chatbot then does not have all the information available to answer every question. Therefore, we learn over the form for contact, the Chatbot, the dynamic FAQ, automatic emails and passive learning by the service coworker. You learn from all channels and the knowledge is centrally available to all communication channels.
Example: The system learns from the contact form that "rubber" is another word for "nose pad". At the same time, the chatbot also knows what is meant by "rubber" and that the customer wants to complain about his glasses.
Further areas of application for Artificial Intelligence outside of customer service
Artificial intelligence is very strong in pattern recognition. We use AI in speech recognition, but there are also various other areas. If, for example, the customer has a problem with his nose pad and communicates, the ERP system could be running in the background and the customer is proactively sent a new nose pad directly without great effort. In general, AI can be used to automate certain pesky processes that exist in the company. It is always about the factor of recurring processes and topics in order to develop standardization or optimization.
Increasing efficiency through automation, so to speak?
In the 1st Podcast of "Springender Punkt" Christian Milster (Team Leader E-Commerce at the WBS Academy) was interviewed on the subject of E-Commerce. There was talk that artificial intelligence and e-commerce belong together and that customer service can be optimized there with AI.
I think we are now closing the longest cliffhanger in podcast history.
Now we are actually at the point that many of our customers come from the e-commerce sector and of course have many recurring service requests, such as:
"I've forgotten my password"
"When will my order come?"
"How can I return my order?"
We continue exactly what Christian spoke about today.
You already have the impression that chatbots are the new thing and many jump on the train and want to do something with AI. Does AI make sense for any company?
Anything with AI is a good place to start. We often get calls of department managers, who ask us:
My boss said we should do something with AI. Do you have something there? My answer to that is mostly: "Sliced or in one piece?
The problem is that you should first define certain goals and know where you want to go with Artificial Intelligence. AI is a wide-ranging topic, the possible uses are very diverse, but there are also limits. Certain limits cannot be broken because there are also logical problems.
What would be a limit that should not be broken?
The best way to explain this is with a customer example from e-commerce: "Does the sofa I ordered fit through my door?" By interpretation, we know that the customer wants to know how big the dimensions of certain goods are. We don't know how big his door is. That is a logical limit. The issue must therefore be viewed with skepticism. The development of intelligent systems has already come very far, but it is far from being an "own consciousness", as it sometimes comes up as hype. It's still about pattern recognition. A hyped topic quickly becomes hysteria. Since you quickly move away from logical thinking and with AI stranding away from logic is the biggest mistake you can make.
It immediately reminds me of a term that I have come across. The phenomenon "uncanny valley" to "scary valley". Basically, the point is that many people are scared when AI or robots become too similar to humans, as you might know from some science fiction films. What do you think about this? Would you say there are many people who should be afraid of this?###
We are far from there. With AI, we still are in the development process. Researchers say that AI is just a working title. A few years ago, cameras that could remove the red eyes were sold as AI. Today everyone would say this is a standard feature. Humans have strong skepticism about technical development. We therefore never try to imitate human traits. If our AI is integrated in a chat system, it is always visible to the customer that he is currently talking to a machine.
We don't want to imitate people - that's very important to us.
You should never give the customer the feeling that he is getting a pseudo-human answer. This is very problematic in customer service. There is a high level of frustration when the customer has a problem and only receives a standard email from the employee, which in the worst case does not fit at all. The customer then goes to the Facebook page and writes a hate comment on the company's wall. You should therefore always be open about whether the customer is talking to a machine or a person.
Can you give us a little insight or outlook. Are you currently working on new software solutions? Is it allowed to reveal a little something?###
At OMQ we are constantly working on new software products. In 2019/2020, integration with third-party systems is very strong for us. We try to automate even more processes, such as information requested by the customer, which is then incorporated into the ERP system. Another step is the direct placement of information from third-party systems. If the customer asks: "When does my order come?", he does not want to receive a standard response in 3 days. Instead, he wants to know the exact time when his order arrives. The individual companies must be involved and it must be clarified how to obtain and place tracking information. It is important for OMQ that the answers are more individualized. This topic is particularly relevant for the next few years.
This is a really great view. We will definitely be curious about which AI's or chatbot systems we will also be dealing with. Thank you for being in the studio!
If you want to learn more about us and our technology or if you would like to see the software in action, please contact us :)